The Best I've Seen
The Best I've Seen highlights the very best in a cappella, as seen in the admittedly biased and limited view of the author.
Note: This is the final regular post for our 2011 publication season. We want to extend a special thank you to all of our guest contributors from this season, including Andrea Aquino, Jessica Bryant, Stephen Hutchings, and Michael Marcus. We also want to thank all of our readers for aking us a part of your day, sharing your work, and contributing to The A Cappella Blog's highest traffic season to date! Be sure to check back for news updates and coverage of the fall 2011 season of The Sing-Off during the off-season. We will return to daily posting in January 2012.
The Best I've Seen highlights the very best in collegiate a cappella, as seen in the admittedly biased and limited view of the author. In this special edition, ACB Content Manager Mike Chin reflects upon the best of what he had the chance to see in the 2011 ICCAs.
Best Set: There were a number of great sets this year and, in the end, I had no choice but to go with one I felt should have taken home the ICCA championship, Brigham Young University Vocal Point. Vocal Point had a number of things going from it. There was the sheer range of songs, from classic Michael Jackson, to Michael Buble song with a Latin groove, to a hymn, to swing. The guys brought cleanest, crispest sound of the year to their whole set, towering basses, impeccable intonation, and a real clarity that so few groups can produce. And then there was the entertainment factor. Whether the guys moonwalked, salsa danced and swung; they created an at least three-part vocal percussion section; and on top of all this, they executed the entire set with a swagger that never let the audience think they might fail. More than any other set, this was the one this year in which I felt I watched true masters of their craft plying their trade over 12 minutes.
Best Song Selection: Although Vocal Point delivered the best set on the whole at this year's Finals, the biggest knock against them was their failure to innovate. Despite how different their songs were, we've heard most every style before, and even heard these styles coming from the very same group. The honors for best song selection go to the group that went the furthest to innovate--The Vanderbilt University Melodores. A lot of folks question the musicality of a set that put so much weight on rappers, dancers, and a guy with a gimmicky voice. The thing is that The Melodores called upon what made them unique and played it to their full advantage. I defy you to find another group in collegiate a cappella today that could have pulled off "How Low" in half-as-entertaining fashion. The "Strange Fruit"/"A Change Is Gonna Come" mashup was a perfect fusion of all-male power and soul with social consciousness. And "Supermassive Blackhole?" Simply epic stuff, and a perfect climax of the use of the guy with the chipmunk voice to let him explode on his own solo.
Best Solo: This is a very tough pick, but in the end I'm going to go withRider University VocalMotion for "Landslide." Richard Crandle was the star of this set, but had his truest opportunity to shine on this particular song. Beautiful, crisp, and showing excellent range this song was the perfect showcase for one of the most beautiful pure talents in collegiate a cappella today. Crandle just barely edges out my pick for the second best solo I heard that night, and, indeed, all season, in the form of Syracuse University Groovestand's Hannah Corneau on "Empire State of Mind." Groovestand wisely inverted the proportions of this song to underscore the ballad over the rap, and when Corneau had the spotlight, she turned in an emotionally-wrenching song that blended melancholy, aspiration, and just a hint of urban swagger.
Best Arrangement: Though there are a handful of arrangements I might, more objectively, laud over this one, the arrangement I found most refreshing, and that I most enjoyed was that of The Florida State University AcaBelles on "Firework." Here's the thing—this is a fun, catchy song, and plenty of groups have done a good job covering it this year. It's just that, so few groups have done a great job covering it, and the underlying downfall of so many groups has been poor arrangement decisions. Katy Perry has made a career out of yelling lyrics, and this is fine for overproduced radio play, but groups that translate this style too literally to the stage are asking to make their audience's ears bleed. The AcaBelles marked the one group to really make this song its own, playing with dynamics and tempo truly create moments and let the solo and everything around it explode for a terrific finish.
Best Vocal Percussion: Brigham Young University Vocal Point offered up top notch percussion throughout its Finals set, but the group set a new bar on "Meglio Stasera" by supplementing its outstanding drummer with vocal maracas and wood blocks. This was ambitious, entertaining, innovative, and flat out sounded great.
Best Choreography: It's not unusual for groups to cover Michael Jackson and to imitate some of his signature moves. What separated Brigham Young University Vocal Point from the rest of the pack was that you had the full group executing the moves, carrying them out as slickly as possible, and not letting it do a thing to hurt the sound. This is off the charts visual presentation that complements the music. The guys carried on this standard for excellence and "Meglio Stasera" and arguably exceeded it an ultra-fun take on "Jump Jive An' Wail."
Best Mashup: Mashups are rapidly becoming a staple in collegiate a cappella, the point that making one stand out demands a real combination of execution, creativity, and fluidity. The Johns Hopkins University Octopodes hit all the marks on their mashing of "Firework" and "Starlight," a cutting edge, contemporary, and thematically-linked power piece that wrapped up their set in epic fashion, and arrived at one of the great moments in a cappella this year when the component soloists synergized their sound on the finish.
Best Outfit: Just as the sheer quality of competing groups has increased and, in some regards, leveled out over recent years, so has group attire, as most groups are smart enough to put together a good, reasonably uniform, reasonably distinctive look. The SUNY Buffalo Buffalo Chips get the duke this year for steady improvement, individuality, and overall aesthetic appeal. Those who have followed the group over the years have seen them evolve generic collared shirts and jeans, to baseball tees, to the blue shirts and white ties of their school colors, to this year's look with the same shirts and ties under stylish matching black vests. It's classy, it reflects school pride, and it's just a notch different from the many shirt and tie and blazer-clad groups roaming the east coast.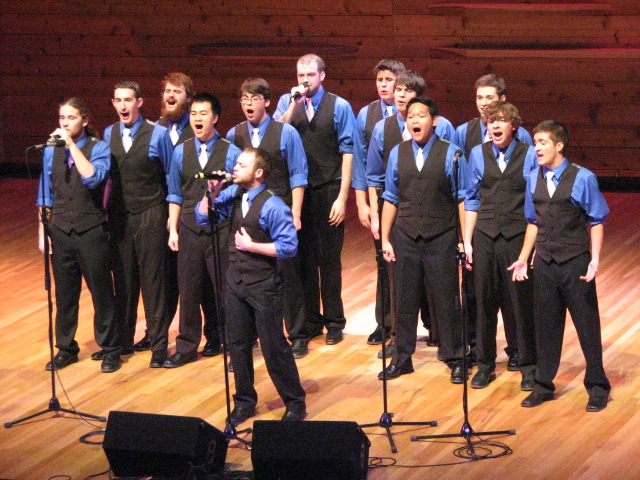 Best Moment: There are some moments that transcend the more basic, quantifiable measure of a cappella excellence. Moments where the arrangement was strong, but not exceptional; where the solo was great, but not the best of the year; when the presentation was visually engaging but not entirely memorable. There are moments when you can take the best of these qualities, give them a dramatic build through the surrounding dynamics and visuals, and explode into something sublime. That's exactly what happened when The Washington University of St. Louis Stereotypes reached the climax of "If You're Out There." The Finals' top soloist, Marcus Brown, led thecharge for the group's soaring vocals. The greatest strength of The Stereotypes is that, when they compete, every guy on stage is selling every moment of a song to his fullest ability, and leaving every conceivable ounce of energy right there on the stage. Therefore, when this group marches forward and culminates in a wall of sound, you just can't help getting caught up in the emotion, and wanting stand up and clap along. This is the kind of moment that represents what collegiate a cappella should be all about.