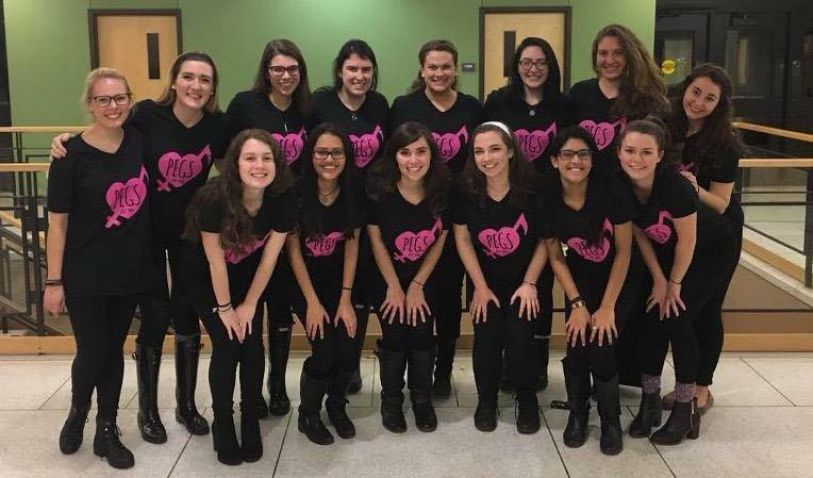 In honor of the 2017 ICCA tournament, The A Cappella Blog pursued short interviews with competing groups to develop insights into why and how groups approach competition, and to get appropriately excited for the tremendous shows ahead of us.
What's your group name and on what date is your group's quarterfinal?
We are the Harpur Harpeggios, or more commonly known as The Pegs. Our quarterfinal is February 25th, in Potsdam, NY.
How long has your group been around? Have you competed before?
Our group has been around since 1983. We have competed before, with the most recent competition being in 2013.

Why are you competing this year? What does your group hope to accomplish or get out of the experience?
We're competing this year because we feel that we have grown so much in the past few years. Musically, we have been able to formulate a sound that we are extremely happy with. We're extremely proud of how far we have come. We're excited that we have the opportunity to compete this year, as it will be most of the group members' first times performing in the ICCAs. Our goal is to make it past quarterfinals, but ultimately we are just so grateful for this experience and we hope that it helps us to become even better performers.

How is your group preparing for competition?
We have created a completely new set for this competition that is unlike anything we have ever done before. It's a bit difficult to be learning something so new and so different with a fairly short amount of time, but we think that it's going to be worth it. We're going to start learning our new set over winter break, and then have some hardcore rehearsals once the spring semester starts!
If you were to describe your group, or the set your group is planning for competition with just three words, what would they be?
Three words to describe our group would be, supportive, determined, and empowering.
You can visit the Harpur Harpeggios online using the information below:
Our website is http://thepegs.wixsite.com/the...
Our Facebook page is Harpur Harpeggios
Our Twitter username is HarpurHarpeggio
Our Instagram username is harpurharpeggios