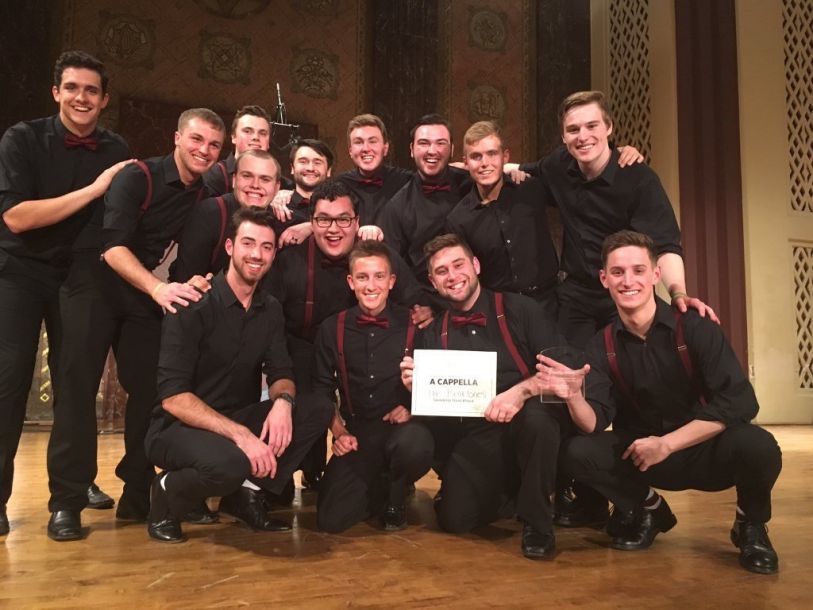 In honor of the 2017 ICCA tournament, The A Cappella Blog pursued short interviews with competing groups to develop insights into why and how groups approach competition, and to get appropriately excited for the tremendous shows ahead of us.
What's your group name and on what date is your group's quarterfinal?
The Beartones (Missouri State University's premier all-male a cappella group).
February 25th at 7:00 PM at Missouri State University.

How long has your group been around? Have you competed before?
The Beartones were established in 2000 and started competing in 2002. We have made it 10 out of 15 years (6 consecutive). We made it to Finals once back in 2009 where we placed 3rd.
Why are you competing this year? What does your group hope to accomplish or get out of the experience?
We competed last year with a very young group. Going into ICCA there were a lot of guys afraid that we might struggle. Luckily, we advanced to semis and placed 3rd. This really lit a fire under us and showed us that we can contend for finals every year and we should set the bar high. Coming into this year, we are returning a lot of strong members and looking forward we won't be losing anyone next year. These next few years are very exciting for us because we know the potential we have, we just have to make it happen. We have never been a group that does ICCA just to win it, but for the experience of bonding as a brotherhood, as well as wanting to send a message to the audience. We have the power to influence people with our music, and we want the audience to leave truly pondering what our message means.

How is your group preparing for competition?
To prepare for ICCA this year, we are currently in the process of getting all of our arrangements in. Once they arrive, we will send them out to everyone and over Christmas break learn them. Our goal is to come back in January and have all of the notes learned. We won't have a whole lot of time to prepare for quarterfinals because many of the guys are in the Missouri State Chorale, and they will be performing at the presidential inauguration for about 40 million people. For that reason, it sets us back a week, and it is crucial that we have our music learned quickly. After learning the notes, we can move into choreography and finding the deeper meaning to the music. We spend a lot of time dissecting the texts of our pieces and truly finding what the songs mean to us. The more time we have finding the deeper message, perfecting our choreography, and getting out of the music the better.

If you were to describe your group, or the set your group is planning for competition with just three words, what would they be?
Introspective, Candid, Human

Our set is about what it is like to be human. Life can kind of suck sometimes, and we may spend a lot of time looking for the right answers. But, maybe we don't have the answers, and maybe that's okay.

You can follow The Beartones online via the following links:
http://www.thebeartones.com/
https://www.facebook.com/TheBe...
https://twitter.com/Beartones
https://www.instagram.com/bear...
Their Snapchat is @msubeartones.