This past Sunday, Carnegie Hall in New York played host to the third annual Total Vocal, a celebration of a cappella. Total Vocal host and all around a cappella guru/sensation/godfather Deke Sharon was kind enough to share some thoughts with The A Cappella Blog. We'll have a write-up of the show available, via contributor Irene Droney, in the near future.
(Note: interview questions were sent shortly before Total Vocal occurred, and answered shortly afterward.)
The A Cappella Blog: Say someone is attending Distinguished Concerts International New York (DCINY)'s Total Vocal as their first live a cappella experience. What can they expect from the show? What might surprise them? What should they know going in?
Deke Sharon: I think most people sign up because they'd like a chance to work with me and perform at Carnegie. What they don't realize is that they leave having changed people's lives (I am currently being inundated with requests from audience members who now want to join groups) and having made friends around the world. The connections they make between groups and with the audience leave them changed, with a greater understanding of the power of vocal harmony. Moreover, many have had experiences competing, and this is in many ways the exact opposite: they work together, and they all win!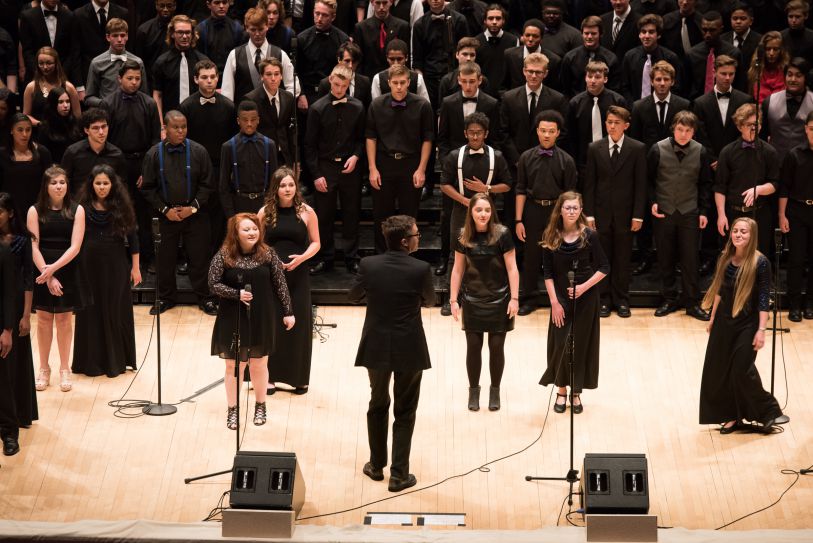 The A Cappella Blog: How were the groups performing in Total Vocal selected by DCINY? What kind of preparation went into bringing them all together for this massive undertaking?
Deke Sharon: We would love to have everyone and anyone on the Carnegie Hall stage singing together, but to keep it a great experience for all groups, and to ensure a fantastic show for each year's sold out audience (only a small fraction of the 2,800 attendees are family or friends), we need to ensure that these a cappella groups will be able to handle the hour's worth of my contemporary a cappella arrangements.
DCINY does a fantastic job reaching out to groups around the globe, resulting in singers from over a dozen countries this year, with ages ranging from 11 to Sixtysomething. This almost never happens on stage, and the resulting experience for the audience beyond the music is a powerful statement about a wide range of very different people coming together to create something special. We need that message right now.
The A Cappella Blog: Which groups or acts at Total Vocal do you think might most surprise the audience, and why?
Deke Sharon: Each year it's different. The audience is usually unprepared for the incredible talent found in so many of our young singers, which is why I am always certain to include a couple of songs with many different soloists. In addition I like to feature different groups from around the world. This year Shemesh Quartet from Mexico brought down the house with a clever medley of popular songs in Spanish.
The A Cappella Blog: Total Vocal is happening during a very busy month for a cappella, sharing the same weekend as the Boston Sings festival and the International Championship of both Collegiate and High School A Cappella finals. What's unique about Total Vocal? What will attendees experience at this show that's different from other a cappella experiences?
Deke Sharon: I don't want to take away anything from those other great events, but this is a celebration without any competition whatsoever. The focus is on impressing the audience, not judges. And the audience is much larger for this. Plus the singers get to work with singers from around the world as well as celebrities and other special guests, sing in different configurations, and by the end feel the power of getting the audience clapping, then dancing, then singing along on their feet: 3,200 voices raised in song. It's an unbelievable experience.
The A Cappella Blog: You've been a key figure in so many a cappella endeavors, and particularly in the explosion of a cappella this past decade, including TV, movie, and Broadway ventures, traveling abroad, and performing yourself. Would you be willing to share one or two of you most surprising, wacky, or memorable experiences or discoveries related to your work in a cappella in recent years?
Deke Sharon: The first thing that pops into my mind is that contemporary a cappella is the best training ground for young singers. I can neither confirm nor deny that the kinds of songs we have high schoolers and college singers singing regularly bring tears to the eyes of actresses and Broadway stars when they first try to learn them (OK, I can confirm: they do!), so when graduating they are prepared to sing in any group, band, choir, etc. Their ears and voices are fine tuned and sensitive to small adjustments in pitch, blend, increasing or decreasing vibrato, etc. We have hundreds of thousands of young singers who are growing up with this kind of dense, complex harmony and taking it for granted, and as a result the next generation of singers is going to be better prepared than ever before.