Each year, it seems that there are a select few hot CDs that get the a cappella community buzzing. They're typically the work of a professional group, or perhaps a particularly iconic college group or a prominent ICCA competitor that's taken a year off from competing to get in the studio.
Rarely does a high school group set the a cappella world on fire.
Apparently, no one told Forte.
Forte is based out of Centerville High School, and operates under the faculty direction of Ben Spalding. The group placed at the ICHSA Finals this spring, and went on to stun a live audience at SoJam by putting the perfect cap on Ben Stevens's Essential Listening workshop.
Then, there's the CD.
Life's So Lyrical is more than just any polished CD, featuring arrangements and production from top names in the a cappella community; it's a CD composed exclusively of original music, written by the students.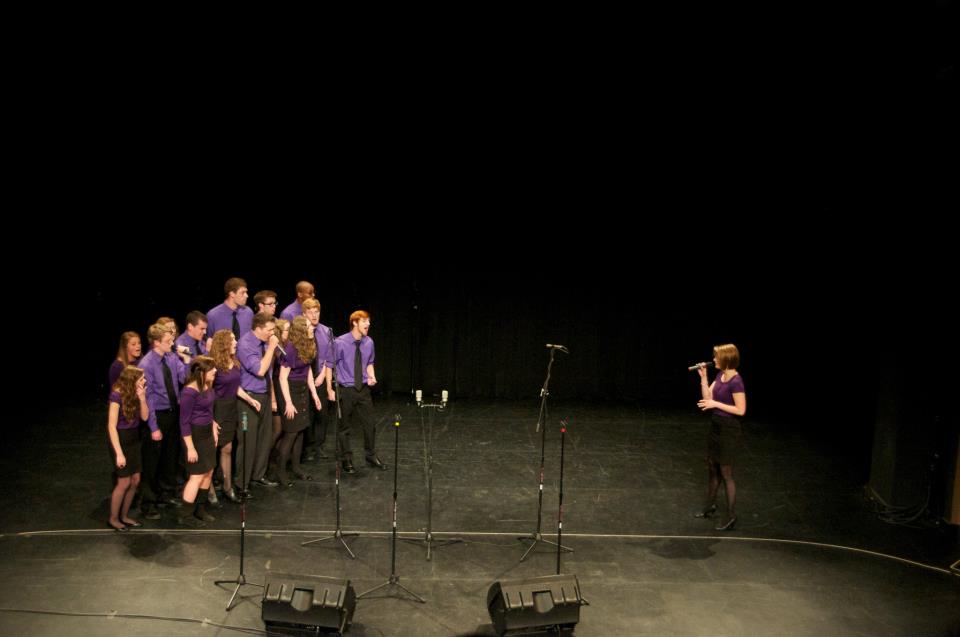 "The process of original song making with Forte came about with our very first CD, Forte Revolution," Spalding explained. "Kendra Huhta was a junior with the group at the time and she had written a few songs. Every year Forte does a Coffee House concert and it's the only event that we do that isn't a cappella. Each kid is able to perform something of their choice at this concert and I require the kids to find their own accompaniment and make the show work … At our first ever Coffee House Kendra performed an original song. I was extremely excited and I put that song on our first Forte CD, however it was not recorded a cappella."
The idea for an all-original CD didn't come about until a year later, when Christopher Diaz visited the group to help them prepare for ICHSA competition. "I knew a lot of the kids were writing originals because of our Coffee House this year and I wanted to find a way to get their music to the masses," Spalding said. "I told Christopher about what they were writing and had them play their songs for him. After that we couldn't stop talking about the idea of an a cappella originals CD and how special that would be."
When it came to songwriting, although Spalding is clearly dedicated to his group, he noted, "Most of the time I don't have to do anything with the writing process with them other than makeing sure they have the necessary resources. In fact, I think one of the most important parts about being a teacher is to empower your kids … When you give kids opportunities and motivate them it's amazing what they can accomplish.
Micaela McCall, a member of Forte who co-wrote a track called "Mannequin" with groupmate Chris Jobe said, "We were inspired largely by each other and our mutual love for creating music."
Upon hearing about original songs by high school students, one might leap to the assumption that the CD is laced with teen angst and gooey love songs. While these sentiments aren't 100 percent absent from the project, there was far more to the process of generating songs for this album. "I just have moments when my writing flows and I go s traight ot my piano and write whatever my mind is coming up with," Anna Rose, who wrote "Walking Out The Door" said. "My songs aren't about anyone in particular. They aren't even about personal experiences, they are just stories in my head that I put music and lyrics to."
"The emotion of a song is most important to the success of an original song," McCall said. "A catchy melody helps of course, and good lyrics make them even better, but if an artist pours their heart into writing a song, people will be drawn in to the story of the song and it will be more likely to succeed."
For all of its vocal talent and able songwriters, Forte still needed money to make its project a reality. And so, the group launched a Kickstarter campaign. "We definitely have amazing support in our home community and the a cappella community," Spalding said. The project was fully funded, allowing the group to connect with some of a cappella's most successful names, including Diaz, Deke Sharon, Robert Dietz, Nick Girard, Carl Taylor, and Ed Boyer, all of whom were eager to help with the project.
Life's So Lyrical has earned its fair share of support already in the a cappella community, and with the project's success it seems imminent that other scholastic groups may aim to follow in Forte's footsteps. To them, Spalding said: "Go for it! I think so many directors get caught up in how they are going to raise the money and well I have poor kids … I don't have all of the answers when I start on a task but I will talk to everyone under the sun to get to the end goal if that's what it takes. And if you're not good at a particular part of the project then I'll bet you can find someone that is and is willing to help. Surround yourself with people that are willing to help."
Regarding the creative process, McCall added, "I think it's very helpful to learn an instrument like guitar or piano. But you don't have to. A lot of it can be done just with voice. You can always find someone to help you out with chords later. I also think it is really helpful not to second guess your writing too much. It doesn't always have to make sense. Use it as a way to express yourself, an outlet."
Indeed, Forte seems to have found an outlet, an audience, and a unique identity as the trailblazing high school group. The group's original take on a cappella just might open the door for a new generation of artists writing for vocal music.