Calling all male collegiate a cappella singers: Whether you're on the hunt for your summer internship, or you're arranging to get back home to your old summer job, don't forget to send in an audition video for the Hyannis Sound. It's a unique and lucrative opportunity worth looking into if you're interested in spending your summer gaining professional experience. Friends here at the ACB so kindly refer to us as the unique 'all star powerhouse [that] since 1994 has drawn ten talented young men from across the country.' We're gearing up for our 24th summer touring Cape Cod, and we're currently looking for talented male singers to add to our 2018 roster. If you're at all interested, read more about the audition process here.
The Hyannis Sound is a summer job unlike any other. It offers college-aged young men the opportunity to run a professional a cappella group all by themselves, fostering the skills necessary to succeed both as a musician and a professional. Unlike with an unpaid internship, it's a full-time job and you keep your share of what the group makes while still earning valuable experience. Auditions are now open, and we can't wait to hear from you.
The first step is a video submission, with live-round call-back auditions in Boston sometime early spring. Submit a short (~5 minute) audition video before February 10th, 2018. Remember to be yourself, as cliche as it sounds. We want to get to know you from your video, so relax and have fun. Click here to get started. Email Jared with any questions at hyannissoundauditions@gmail.com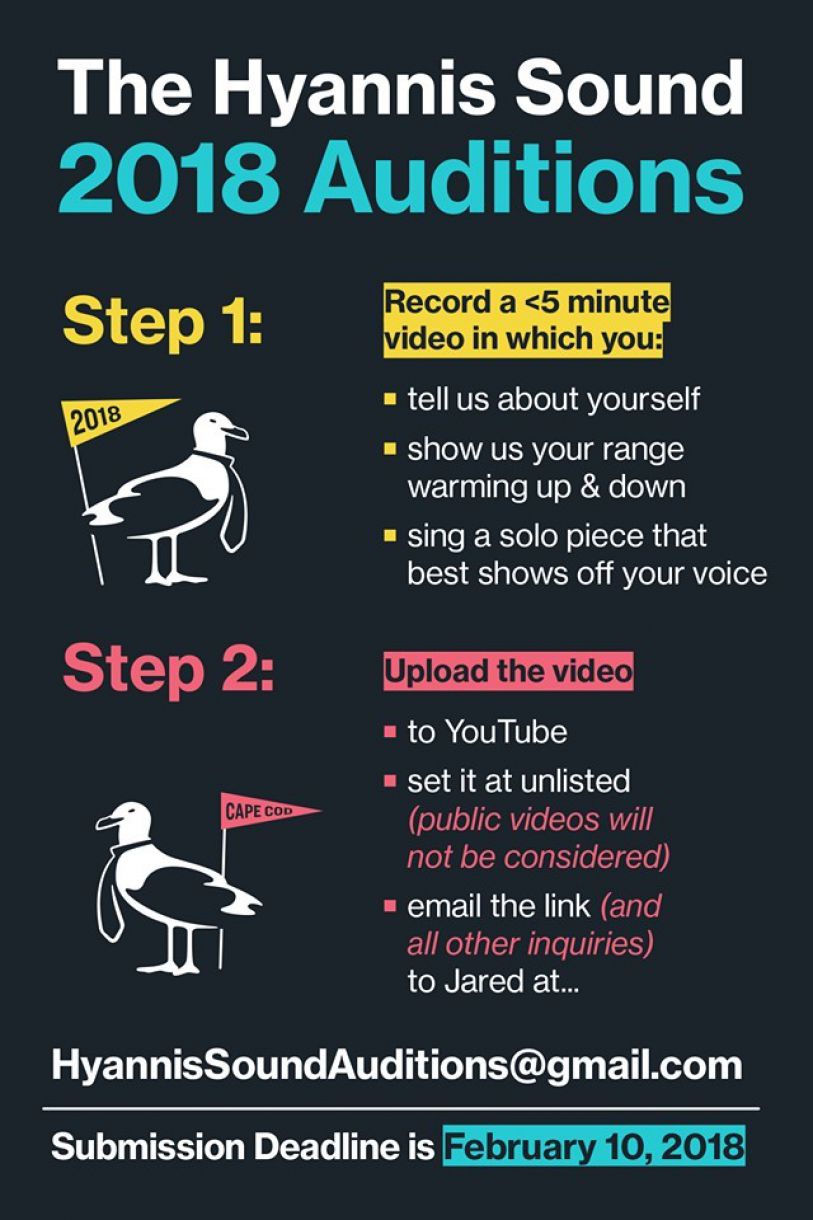 As a member of the Hyannis Sound, you're a part of a professional a cappella group, a small business, bust most importantly, a tight-knit family. Hear it from directly from the ten young men that currently fill its ranks. Here's 10 reasons why you should audition. One from each of us!
1. You're pushed out of your comfort zone.
Jason Berk: Jason is the Hyannis Sound's business manager, and he's completed three summers with the Hyannis Sound. At Elon University, Jason was the president of Rip_Chord.
"You're absolutely pushed out of your comfort zone. You learn so many new things. Not only will you learn a ton of new music, but you'll learn so much about yourself. You leave the summer as a better musician, but more importantly a better person. I know I met some of the most amazing people, and I'm lucky to call them my best friends."- Jason

2. You get to watch your friends grow and improve too.
Jared Graveley is the Hyannis Sound's very own music director and has just finished his third summer in the group. He attended the University of Connecticut where he was the co-music director for his college group, the Conn-Men.
"The Hyannis Sound has been one of the greatest opportunities of my life. I've grown so much since being in the group; more so than I did in my first two years of college. What's really cool is watching the newcomers grow in the same ways that I did. When you work hard and you finally get something, the best feeling is being able to give that back to someone else. I can't wait for the next round of new guys and to see who's auditioning for a spot in this awesome group." - Jared
3. You're immediately part of a loving community.
Grayson Kilgo is the Hyannis Sound's social media manager, and has completed three summers with the group. He founded his college group No Ceiling in 2015 at the College of William and Mary.
"Hyannis Sound has allowed me to truly feel connected to the awesome communities here on Cape Cod. I've had the opportunity to explore the Cape for three summers alongside 9 great friends and teammates. Joining Hyannis Sound is a wonderful opportunity for young singers to find confidence in themselves, and to feel connected to an extremely loving community during the summer months."- Grayson

4. It changes your life in ways you can't even imagine.
Ryan LaForest is the events coordinator for the group and has completed three summers with the Hyannis Sound. In college he sang with the CharlieChords at the Berklee College of Music.
"When I auditioned for the group back in 2015, I thought I was just auditioning for a group where I'd get to live on Cape for the summer singing awesome music with a bunch of cool guys. In the past three years, it's proven to be so much more than that. It's way more than an a cappella group. It really is a family. The alumni network is so supportive and more than willing to help the current guys with whatever they do."- Ryan
5. You'll find 9 of your best friends.
Anthony Rodriguez is our operations manager and has completed two summers. In 2017 his college group, the Nor'easters, won the ICCA championship and Anthony was awarded best soloist.
"We do pretty much everything together. Since we're learning and rehearsing and performing all the time, we're always together. Not only that, but we live in the same house, spend our time hanging out with each other, and cook and eat together too. It takes a little getting used to at first, but because of that, I've found 9 of my best friends."- Anthony
6. You learn to become not only a better singer, but a more engaging performer.
Mark Farnum is the alumni liaison of the group and has been around for two summers. In college, he was the music director for Ithaca College's very own Ithacappella.
"As a member of Hyannis Sound, you'll be rehearsing and performing almost every day of the summer. The arrangements are both fun and challenging to sing. Performing them every day forces you to find ways to keep your performance engaging and different each time. There are few better ways to improve as a singer and performer than practicing 7 days a week for a whole summer!"- Mark

7. You get to record a ton of music with some of the best people in the industry.
Peter Carboni has just completed his first summer in the group and is the group's Public Relations Coordinator. He was the creative director of the Doo Wop Shop at the University of Massachusetts Amherst.
"As a member of the Hyannis Sound, there's no doubt that you'll be performing every night of the week. But what's also cool is recording the songs you love in the studio. We produce a live-recorded bootleg album each summer, and on top of that we release a studio album every two years. We just released our latest album, "Boys of Summer" (RARB gave us a 5/5!) as well as our 2017 bootleg. It's so cool to be a part of that and to leave your mark on an existing legacy." -Peter

8. It's an unforgettable, one-of-a kind summer.
Will Wolz is the website manager for the Hyannis Sound, and has completed his first summer with the Hyannis Sound. He's currently the music director for No Ceiling at the College of William and Mary.
"Nowhere else will you find the perfect mix of friendship, fun and all-around growth other than with the Hyannis Sound. It's truly unforgettable. Everyone in the group pushes you to be the best you can be as a performer, a musician and as a person." - Will Wollz
9. You gain valuable life skills while pursuing your passion.
Nolan Roche acts at the Hyannis Sound's house manager, and has completed his first summer with the group. He's currently the co-business manager for the Bowdoin College Longfellows at Bowdoin College.
"Although I've been in the group for less than one year at this point, Hyannis Sound already holds an important place in my mind and heart. The combination of skills developed during a summer in HS are unique compared to typical summer jobs: public speaking, living and working as a team, and small business experience are just a few. But for me, the biggest takeaway involves a connection with and development of passion. After leaving Cape Cod, I felt a reinvigorated sense of my passion for music, performance, and most importantly, people that'll impact the rest of my life. The quality of people, both in the group, community and alumni base, is remarkable" - Nolan Roche
10. You're challenged musically, but it's so much fun.
Matt Goldstein is the merchandise manager of the group and has just finished up his first summer with the Hyannis Sound. He was the music director of the Vassar Devils at Vassar College.
"The arrangements that we sing are super challenging. They aren't easy! But because they're so challenging, it makes for a beautiful product. We sing them every day and it's so much fun. We have the guys in the house arrange songs for us, and we'll also reach out to alumni who are more than happy to help." - Matt Goldstein
So what are you waiting for? Submission deadline is February 10th! We can't wait to hear from you.
Follow the Hyannis Sound on Facebook, Twitter and Instagram. Listen on Apple Music, Google Play, and Spotify.
Author bio: Peter Carboni is the Public Relations Coordinator of the Hyannis Sound, Cape Cod's all-male professional a cappella group. He's excited to return to Cape Cod in the summer for another jam-packed season of a cappella with 9 of his best friends. Like Peter on Facebook.