On Friday, January 30, Rolling Hills Church in Tualatin, Oregon played host to the ICHSA Northwest Semifinal. Photos from the show are available now on the A Cappella Blog Facebook page. Before the review, here's a quick summary of the evening.
The Competitors:
The Monte Vista high School Monte Vista Chapel Ghosts
South Albany High School Rebelation!
The Athenian School hOWLers
The San Francisco University High School Satonics
West Albany High School Rhythmix
Bend High School Dynamics
Corvallis High School Spartacappella
The Sherwood High School Mixolydians
Lincoln high School Vivace
Oregon Children's Choir Synergy
Oakland School for the Arts Vocal Rush
Wilsonville High SChool Soul'd Out
Guest Performer: Oregon State University Outspoken
Emcee: Jason Kummerman from Outspoken
Varsity Vocals Producer Courtney Jensen opened the evening with some background on Varsity Vocals and announcements
The first competing group was The Monte Vista Chapel Ghosts. Nice look for the co-ed group with the women in white tops, black bottoms, and red heels, the guys in untucked black collared shirts, red ties, and Converse All-Stars. They kicked things off with Bastille's "Pompeii." It's really challenging to be the first competitors to take the stage in a competition like this, and the Chapel Ghosts made a good call of opening on something high energy and familiar to help draw the audience in. The group showcased two strong leads, switching soloists from the verse to the chorus. Nice way to start the set.
Next up, the group sang "Fix You" by Coldplay. Nice soft opening on this one, and I dug the choice to double up the solo with female soloist entering the mix for a pretty little harmony. I appreciated the choice for them to weave in a bit of silence before they launched into the second verse to punch up the drama of the performance. It was an interesting choice to get in an arc and pass the solo mic between two different female vocals moving forward. The group built the sound nicely on the bridge, with five singers stepping forward to take the lyrics while the group sound swelled behind them, with a cool accompanying part to the side. The group threw in a lot of nice little ornamentation with additional backing solos. Visually speaking, I felt they went a little over the top on the finish with the male and female soloist touching one another, but it's a pretty minor quibble.
The Chapel Ghosts closed with "Clarity" by Zedd, with the key backing harmony singer from the previous song taking over the solo--I loved that transition because there were such clear hints of her power in that preceding song, thus it was cool to hear her bust loose on this one. This song called for more movement than the ones before it; on a practical note, the women did not look altogether comfortable on heels on stage--that's one of those little details groups need to think about for stage performance, because you need to be comfortable, or the audience won't be fully comfortable with you. They transitioned to "Latch" by Disclosure. There was a falsetto solo on this one that didn't quite connect for me, but a more natural soloist came in shortly. Fun little bit of presentation with the perc building and the group bobbing downard on the beat. They shifted back to "Clarity" with a fun crescendo, before spreading across the front of the stage for a wall of sound that didn't get quite as big as I would have hoped, but it was the right idea for sure. The group sagged in unison on the finish for a well-planned bit of theatrics to round out the set.
Rebelation! was up next. The co-ed group wore red t-shirts, varsity jackets, jeans and Converse All-Stars. They opened with "You Make My Dreams Come True" by Hall and Oates. Fun transition between soloists as the song went on with a neat little air bass interlude. This was such a fun idea for an opener and I just wish the group had been a touch looser and louder to have some more fun with this song. Just the same, it was a good opener.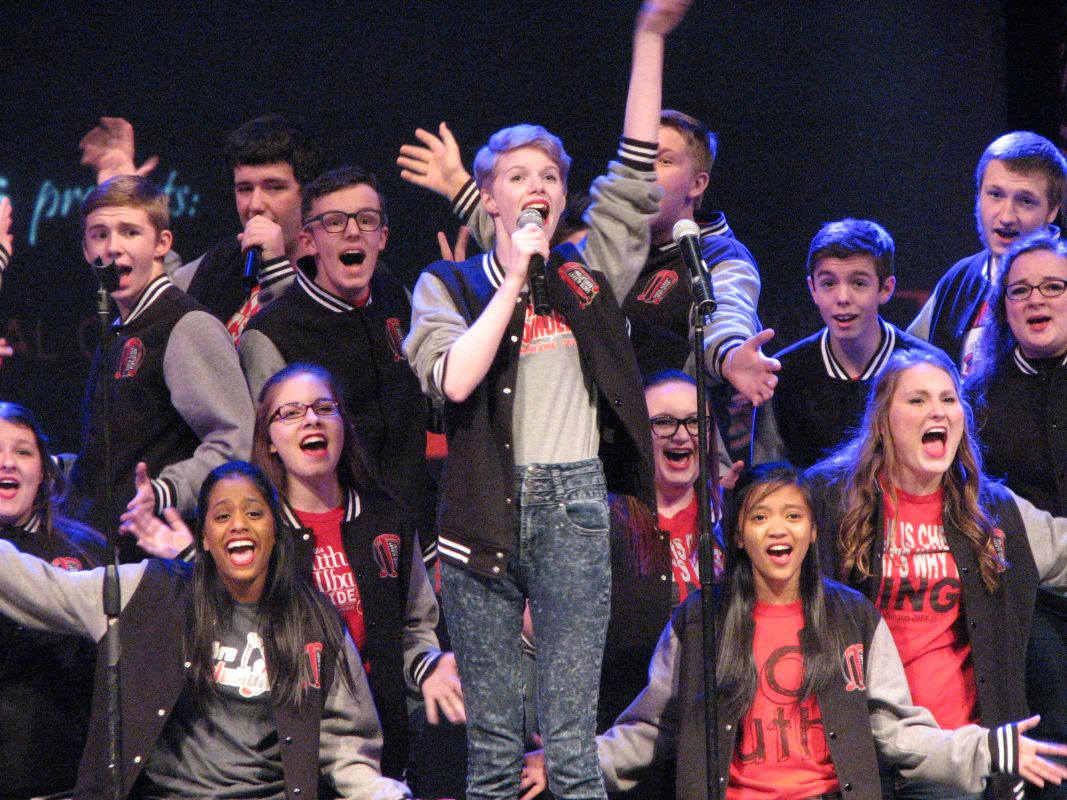 "Replay" by Sean Kingston was up next. Nice charisma from this soloist. Again, this was a song the group could have afforded to cut a little looser on to capture the spirit of the music. Nonetheless, the performance came together on a fun clap-along moment, which shrewdly got the audience involved.
The group closed with Michael Jackson's "Thriller." Fun zombie choreography on this one and a nice infusion of howling sounds in the background. The group went all out on the choreography on the chorus for a really fun presentation. They had an ambitious idea here and I felt it paid off for the most part, though I might have recommended clipping the song a little and toning down the most frantic movement to keep things streamlined and to have allowed the group to have focused a little more on its sound. Fun bit of weaving the group's name in to the final lyric, and the group nailed so many of the campy elements of this song to get crowd engaged and offer up a memorable closing number.
The hOWLers were next out of the chute, a co-ed group clad in black, white and purple. They opened with The Cars classic, "Just What I Needed." Really nice group sound on the intro. Fun bit as everyone got on their knees to transiion to the second soloist who brought a lot of fire to the part. This one got a little shout-y toward the close, but I appreciated the group's gusto in this sort of setting and would rather see a group go for the jugular than keep it reserved on its opener.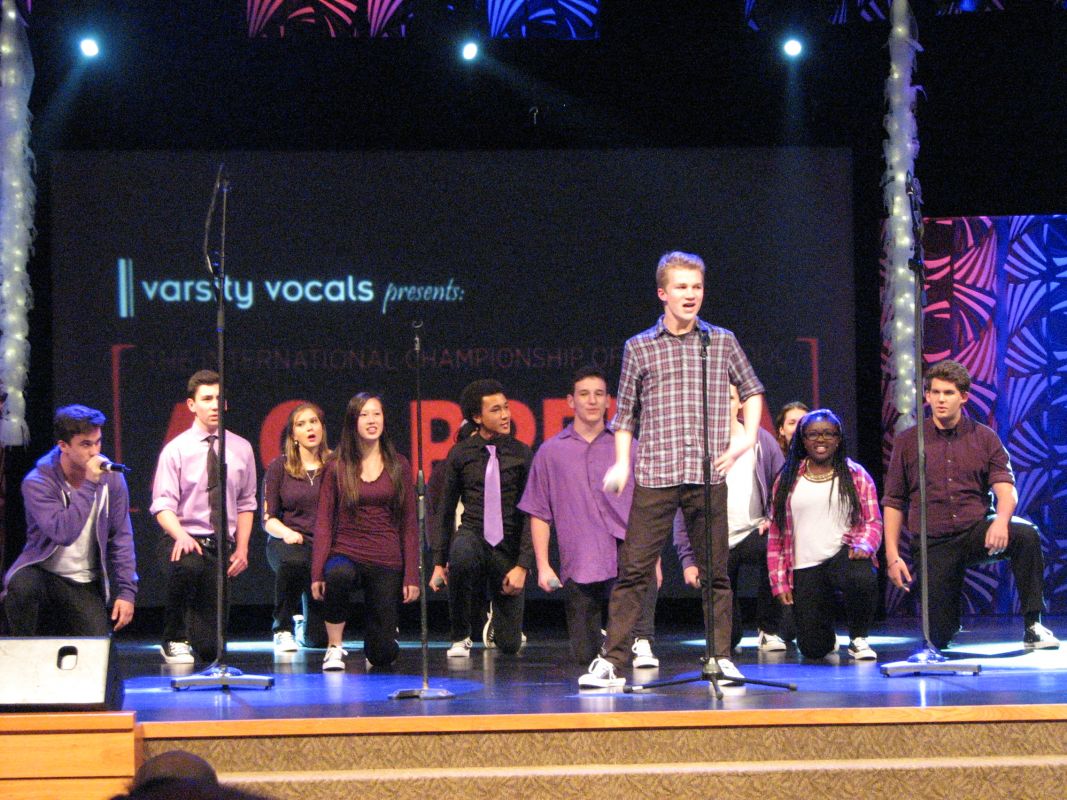 Very smooth hand off of the mics to the new soloists to transition smoothly to the second song. It's so easy to not think about how you're going to get from one song to another, but when you have to pause and reset, it really kills the dream of the set--having each of these switches planned out in advance really suggests a group has done its homework and intends to keep the audience engaged from end to end. Their second piece was Justin Bieber's "As Long As You Love Me." Very nice VP at this point. Good chemistry between the male and female soloists here and a fun bit as two hooded group members took the lead on the rap interlude and vocal percussion at the front of the stage.
Last up, the group sang Fallout Boy's "Counting Stars." Nice underplayed lead-in, and an excellent fast-paced female lead on this one, bringing a lot of attitude to the stage. I apprecated that this group really looked like it was having fun, which made it easier for the audience to have fun along with them. Nice call to transition to Imagine Dragons' "Radioactive" then, to show a bit more of the group's range and bring in some pretty stellar choreo at this stage. It's a minor point, this is the juncture when I would have loved to have seen the whole group get a touch more intense with their facial expressions. The soloist was on it, but I saw few too many smiles on stage to really sell that moment to the degree that they should have. Well-rehearsed bow on the exit.
Here come The Satonics. Black dresses for the women, white shirts, black slacks and ties for the guys.They led off with Beyonce's "Halo." I dug the call to go with a male soloist and female backing solo there to offer something different before they transitioned to the more straight forward female lead on the first chorus. A little too much choreography on this one for my tastes, when I would have preferred to have see the group sell the moment with more intensity. I know that groups worry about the visual component of their scores in competition, but if you study the score sheet carefully you'll observe that choreography isn't, in and of itself, overwhelmingly important. I'd suggest that groups study acts like Pentatonix to get a sense of how simple repositionings and stage presence can often tell a more powerful story than fully realized choreography. But enough on that rant. Nice solo work there. Fun little sample in the background of Kelly Clarkson's "Already Gone," which was subtle, understated, and lovely. There was a sample, too, of "Say My Name" in the background that felt a little less fitting. Just the same, I appreciated the complexity of what this group was trying to pull off.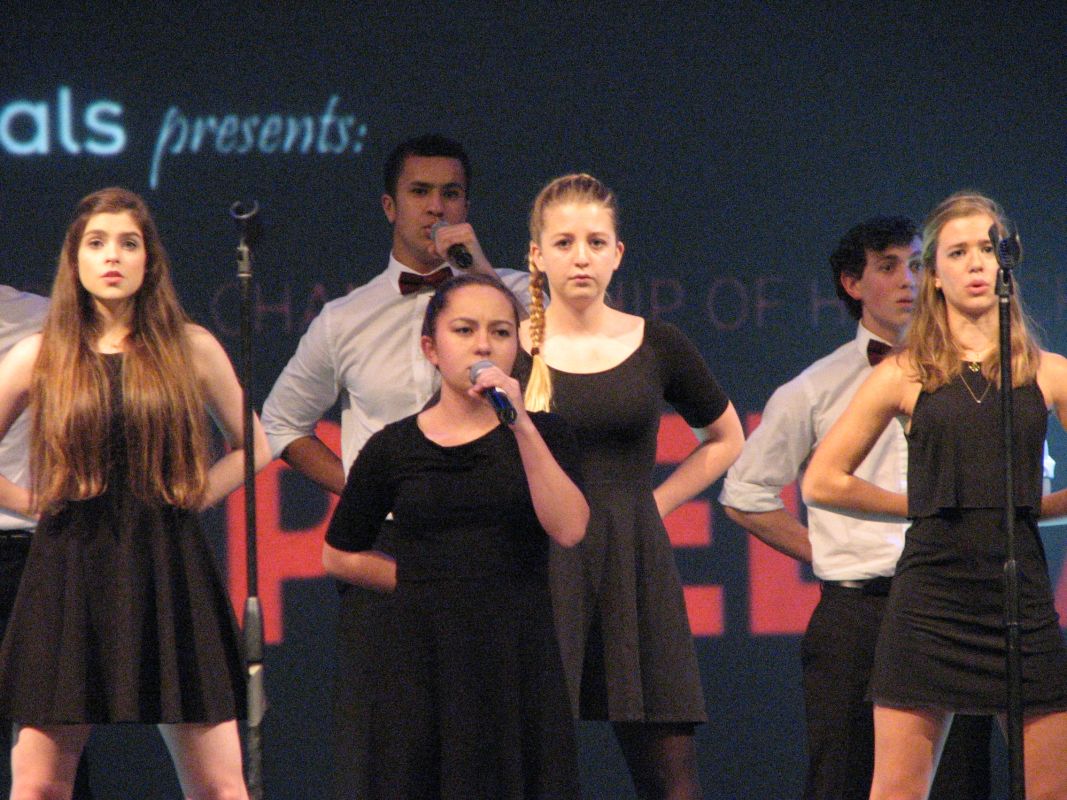 Smooth, all but seamless transition to Green Day's "21 Guns." Nice solo work here as well. I liked the choice to keep the intro so slow and to move in time with it--slow and precise to sell the gun imagery of the song in a way that was clear but didn't feel exaggerated. Fun body perc breakdown on the second chorus. Great energy on that. The blend came off the rails a little on the big finish, but, once again, I like a group going for it rather than playing it safe in the competition setting, so this song mostly worked for me.
From there, the group slid right into Britney Spears' "Toxic." Nice sultry presentation here, particularly on the part of the soloist, embracing the identity of the song. I liked that the guys bought in on the choreo, too, executing it totally unironically in a moment that could have been played for laughs--going the comedic route there rarely fares well in competition, and often undercuts a group's own accomplishments. Selling everything with sincerity communicates a will to succeed, and that's exactly what I felt we got from The Satonics.
Rhythmix took the stage next. Nice look with everyone in black, the guys wearing different ties--uniform with a touch of individuality. They opened with "A Walking Song" from The Lord of the Rings: Return of the King. Nice unaccompanied solo on the intro before the group came in a ghostly fashion. Really lovely solo work there. The group did an excellent job with some lovely harmonies. I really appreciated the group's willingness to buck convention here and start in a slow, musically demanding place, to all but force the audience to listen carefully.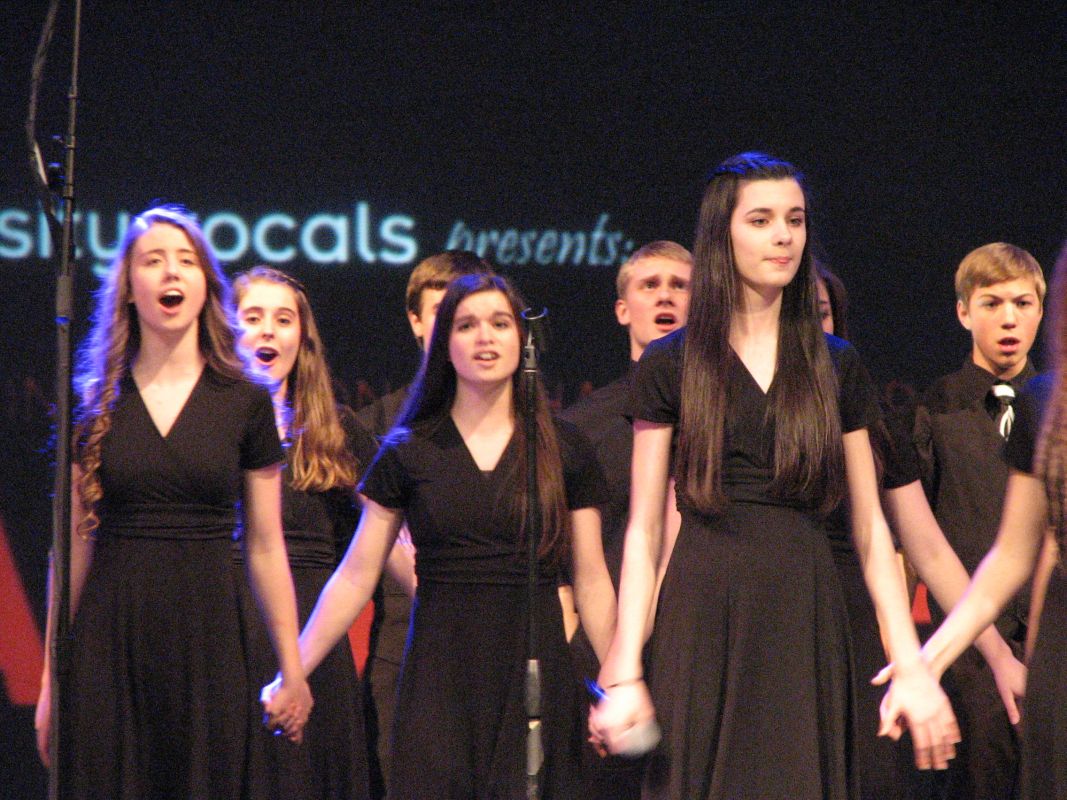 Rhythmix used another unaccompanied solo to kick off "Iris" by The Goo Goo Dolls. The achieved an inspired moment when the percussion keyed in and the group offered a flourish of sound. Good bit of staging as the group members froze in place with the soloists weaving between them. The crowd started to applaud on the fake out finish to this song, which is always a tribute to how well the group got the crowd invested, though it also broke the emotional flow of the performance, which is a shame. I really dug the staging on this song, which was largely about movement and repositioning without gratuitous choreography per se.
Rhythmix tied up its set with Kelly Clarkson's "Break Away." I like this as a song choice for a high school group as that's sort of the perfect point in a person's life to appreciate this anthem to escaping a small town to chase a dream. Really fine splitting of the solo on the chorus. When the sound got bigger the group did a really nice job of selling the emotion. Fun bit of staging as the group members held hands and raised them in the air to close, followed by a well-rehearsed bow.
Bend High School Dynamics were up next, wearing blue, black, and gray. They started off with The Head and the Heart's "Rivers and Roads." I really liked the song choice here and the call to open on a relatively mellow number. Good solo work from one of the guys and a sensational female backing lead--I wish we could have heard more from her. I really liked the simple, but precise construction of this song and the way the group used tempo changes and later stomps and claps to differentiate the song. It organically grew into a pretty epic number by its close.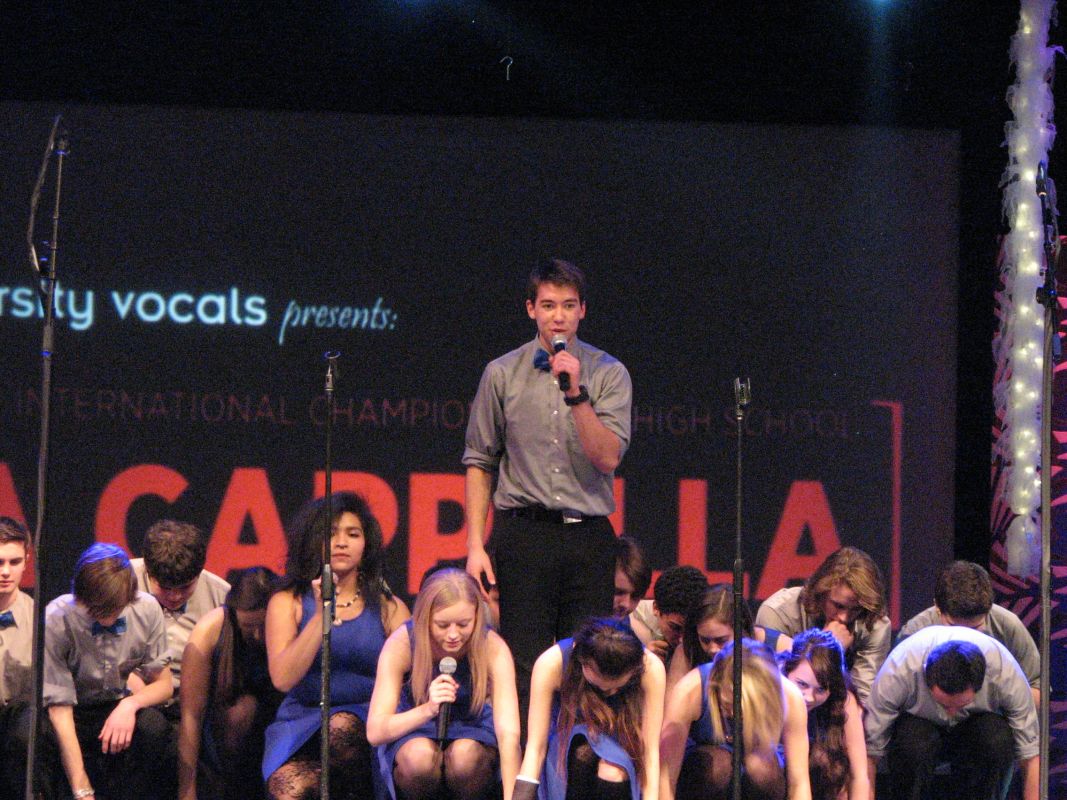 Dynamics followed up with Imogen Heap's "Just For Now." Really cool, scattered sound on the opening and an awesome little segment of body perc which spread to clusters of singers across the stage for a unique bit of staging. One of the guys played his rear end like a drum which felt a little unnecessarily comedic for the moment--there's definitely a place for humor in competition, and I like the group not taking itself too seriously, but I'd have picked a more opportune moment to go for a laugh. Just the same, this was another pretty distinctive song selection, and a fine performance.
The group made a quick transition to Imogen Heap's "Aha!" The group employed a fun bit of staging with members bobbing and a member in the back leaping up and down in rhythm before they all sagged around the soloist. A large portion of the group sagged to the stage and I loved the choice for two guys to break the fourth wall and come into the aisle to collapse on that moment, en route to the big finish. This was a really good way to close a solid set.
Spartacappella was up next, hitting the stage in black, blue, and white. They teed off with Sara Bareilles's "Kaleidoscope Heart." I dug the choice for the group to sing this one chorally, and they executed it with pretty fantastic precision and tuning.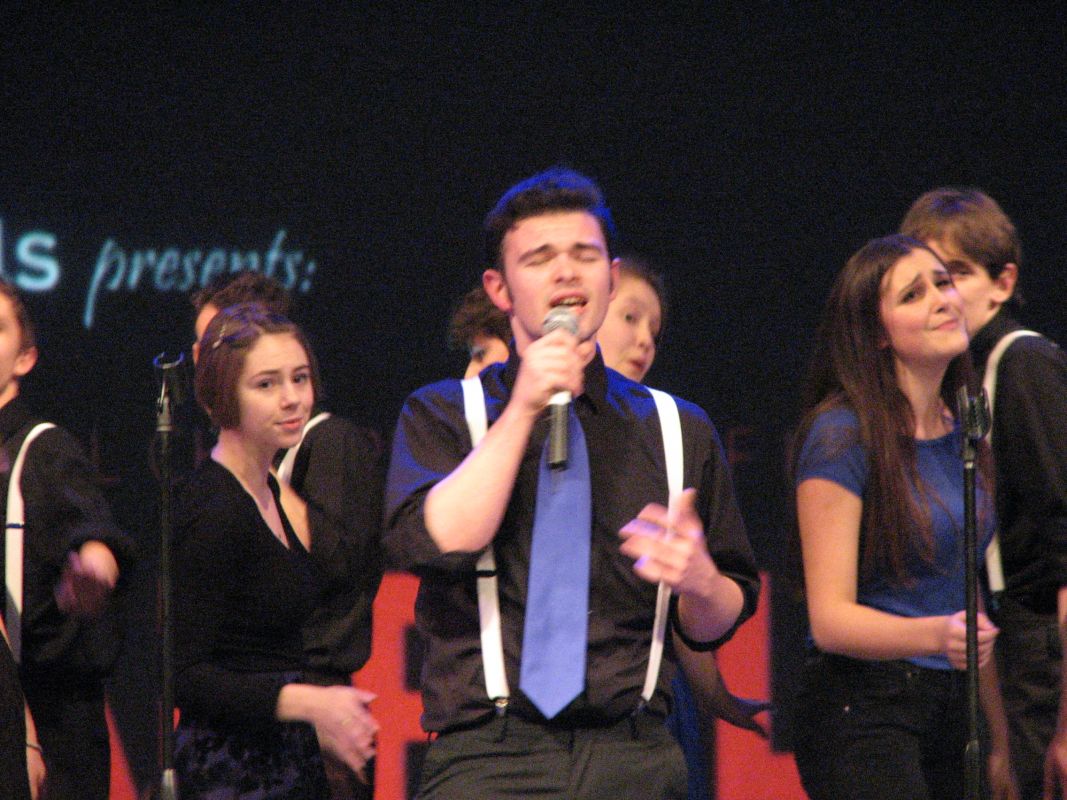 The perc led the way into a mashup of Justin Bieber's "As Long As You Love Me" and Katy Perry's "Wide Awake." Killer perc on this one. I didn't love the choice not to have any clear soloists on this song--one choral song in a contemporary a cappella set subverts expectations, but when you have another song performed in a similar style, you run the risk of not having one face of the group really connect with the audience and put an individual spin on the music at hand. Fortunately, the musicianship was still quite good. Very nice rap breakdown later in the song.
Next up was, Wham!'s "Wake Me Up Before You Go." Really fun staging here, and finally we got the soloist I've been waiting for. Great work from him and really fun bits of choreo in the background--this group had it totally right when it comes to employing enough intersting visuals in the back to keep the audience's attention without going over the top or compromisng their sound through movement. Fun bit of band breakdown on the instrumental section with some instrument pantomiming and aural simulations. Nicely done.
The Mixolydians opened the second half in black and purple. They started off with Karmin's "Acapella." Really slick movement on this one and killer energy and attitude--really nicely done. Solid charismatic solo work. Great comedy bit with the "watch me do it falsett-a" lyric transitioning to a guy hitting the high notes. This was such a fun opener.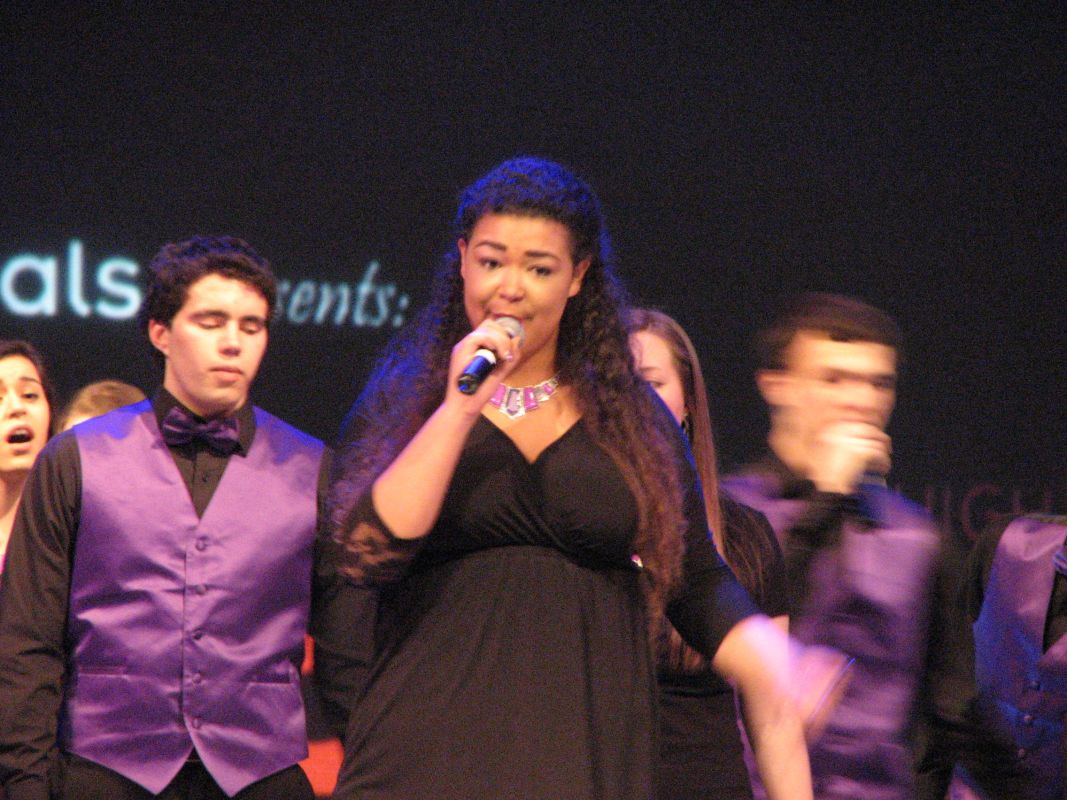 Next, "Bust Your Windows" by Jazmine Sullivan. Nice, mature timbre on this solo. Fun transition to Blu Cantrell's "Hit 'Em Up Style (Oops)." This group did a really nice job of maintaining some pretty stunning vocals alongside the high octane movement. Additionally, and I appreciated the choice not to clip the song to avoid expletives, but rather to shrewdly self-censor with a "bullsh--" lyric.
The Mixolydians closed with Mark Ronson's "Uptown Funk." I just loved the attitude of this group. They were really entertaining two front men on this one--the soloist and VP guy working in perfect concert with each other. Really fun response to the "just watch" lyrics with some crazy choreography, closing on a double turnstile flip. Very nice attitude and swagger from this group--we can debate the overall relative appeal of their set compared to other groups, but there's little question in my mind that they were the most fun group to take in at this particular competition.
Vivace was up next, taking the stage in black and gold. Ghostly start on Adam Lambert's "Whataya Want From Me." with an unaccompanied solo, joined by a second part, then a third who took over the lead vocal. The group gradually worked its way in from there. It was a pretty artful handling of the song, though I may have stuck with one soloist more consistently to hold together those threads that tumbled loose on the later transitions.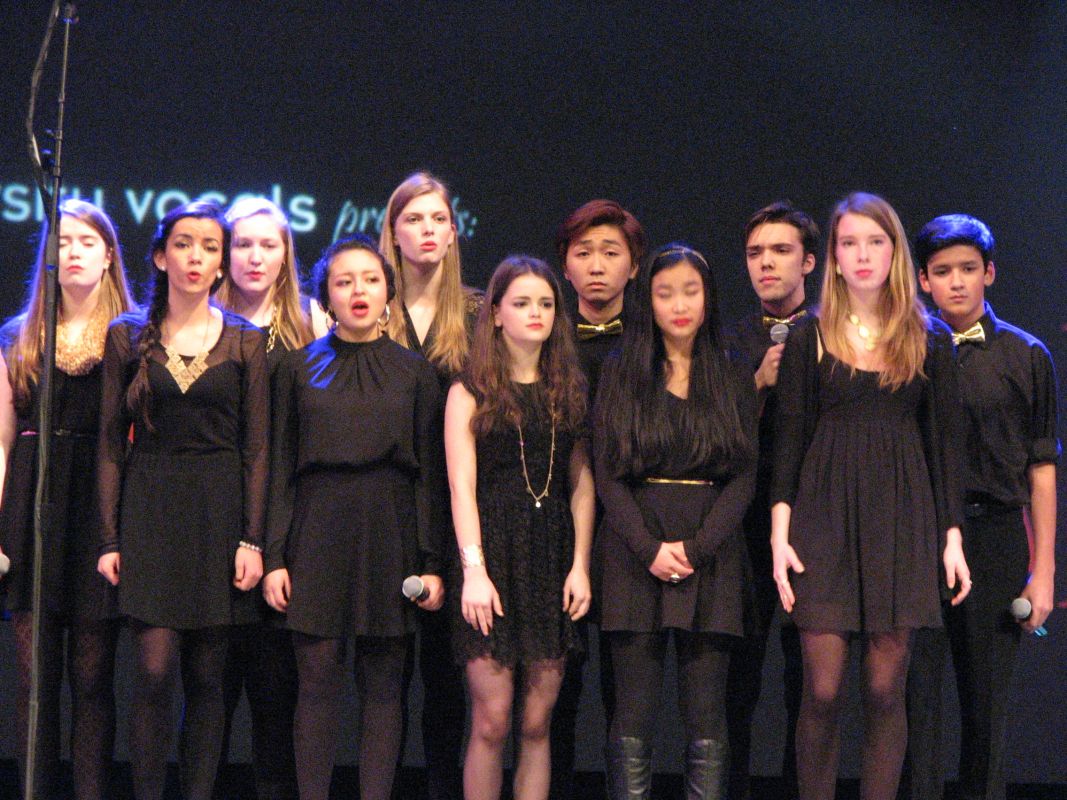 Really charismatic intro to the opening song from Disney's Hercules, before the group launched into "I'll Make a Man Out of You" from Mulan. Yep, we had arrived at a Disney medley. Here's the thing--there's nothing inherently wrong with singing a Disney medley--by and large Disney has produced some very good music, and many of those songs are thematically linked. I do take minor issue with young people singing Disney medleys just because it runs the risk of feeling obvious to the age bracket or immature (though, if anything, Vivace projected an air of maturity that kept that image from ever really taking hold). The other challenge of a medley like this that I did feel came back to bite the group was that when you squeeze in enough bits of enough songs, there's a pretty high chance the performance is going to come across as disjointed or directionless. The group executed a nice, smooth transition to "Colors of the Wind," but by the time they reached "A Whole New World" I was not feeling a sense of rising tension, momentum, or a strong narrative flow, but rather was wondering just how long this number would go. The group boldly wove in a lick from the Star Wars theme, which is techinically Disney property now, before winding up with "I Just Can't Wait To Be King." Just about every part of this medley was reasonable enough, and the leads were strong, but when the medley came to a close, it nonetheless felt anticlimactic--not like the summation of a complex story, but rather as though we had arrived at an arbitary end point and now we were going to switch to a different song. I'd love to hear this group again next year, but for them to bring a more concentrated, focused medley, or to stick to isolated songs to see what they can do without all of the shifts.
Really nice solo work on Vivace's closer, The Rescues' "You're Not Listening." I liked the way in which the stripped down approach to this song gave the soloist plenty of room to operate alone and for the group to remain understated behind her. This may have been the most musically focused piece of the song and the group used some really nice facial expressions to sell the emotion of the piece.
Synergy was up next--our first all female group. Ghostly opening with Tears for Fears' "Everybody Wants to Rule the World." This was a complete reinvention of a classic--slowed down, creep-ified, and pretty awesome. They transition to a relatively straight take on Coldplay's "viva La Vida." There were some cool points when the songs mashed together, but I actually would have voted for them to have stayed with one song, or to have transitioned to something equally inventive because the Coldplay part, as well sung as it was, felt like a bit of a let down.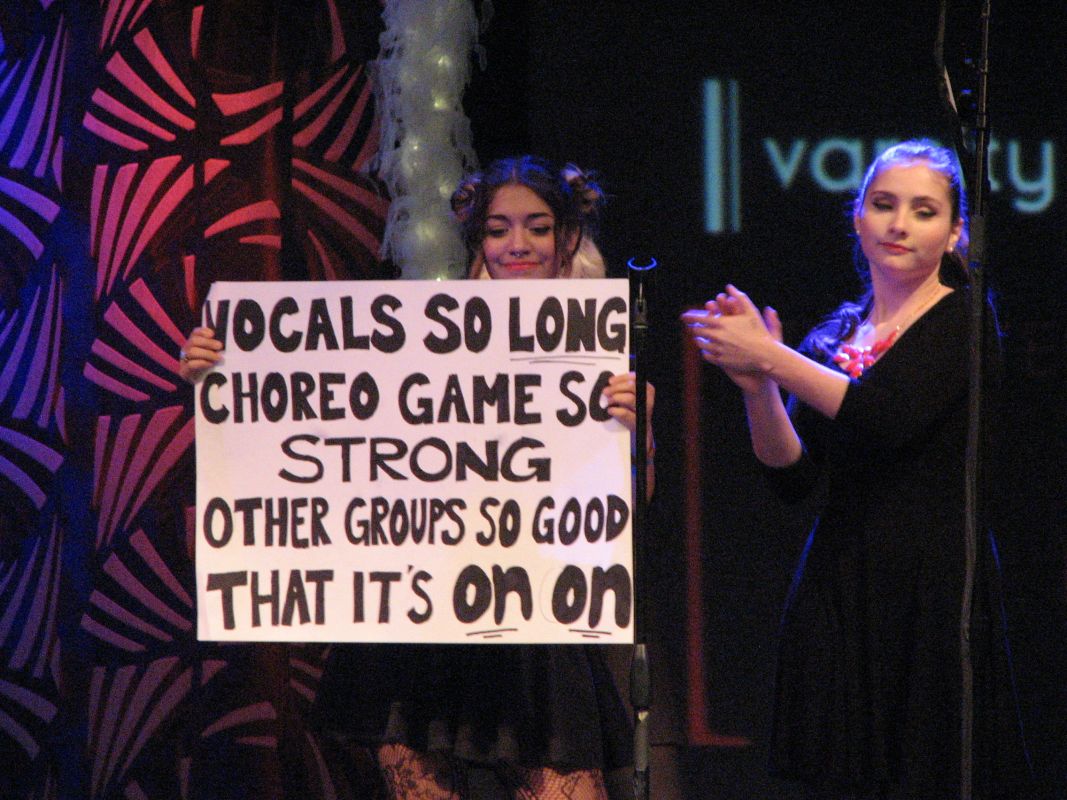 Next up, Ingrid Michaelson's "The Chain." I've heard this one handled chorally quite a bit the last few years, and I dug the choice to go with a soloist here. It was also a good choice to go with something more decisively feminine to reveal another side of this group's personality. I like the mixture of different sounds to keep the group from being predictable. Nice transition to a second soloist who added a lovely raw edge to the vocal, and I just adored the moment when they doubled and the group began the process of singing in a round. Simply lovely. I could have done without the cheese of the group forming a chain by holding hands on the close, but that's a minor quibble.
Awesome of explosion of sound as the group transitioned to a modified version of Jessie J's "Bang, Bang" (which I learned after the show that they had titled, "Sang, Sang"). This was a huge statement song and a perfect contrast to everything the group had done up to that point--positively pulsing with energy. Group members held up signs to track the lyrics on the rap--really fun clap-along bit toward the end. This was just a killer closing number.
And then things got real. Vocal Rush was in the house. Black and white dressy attire and blue shoes for the Oakland crew this time around. Jazzy opening on Paloma Faith's "Upside Down." Killer movement from the group--keeping it simple but perfectly synched and appropriate to the music. Nice mixing of the tempo here. Very nice unison on the finish with a hint of a high harmony underlying the whole thing. This was an excellent, off-beat opener that was really different from anything else we had heard that night and a divergence from the more sassy, high energy sound I had grown accustomed to from this group. On an evening in which so many groups were performing the kind of music I would more traditionally connect to Vocal Rush, it was great to hear this group reinventing itself.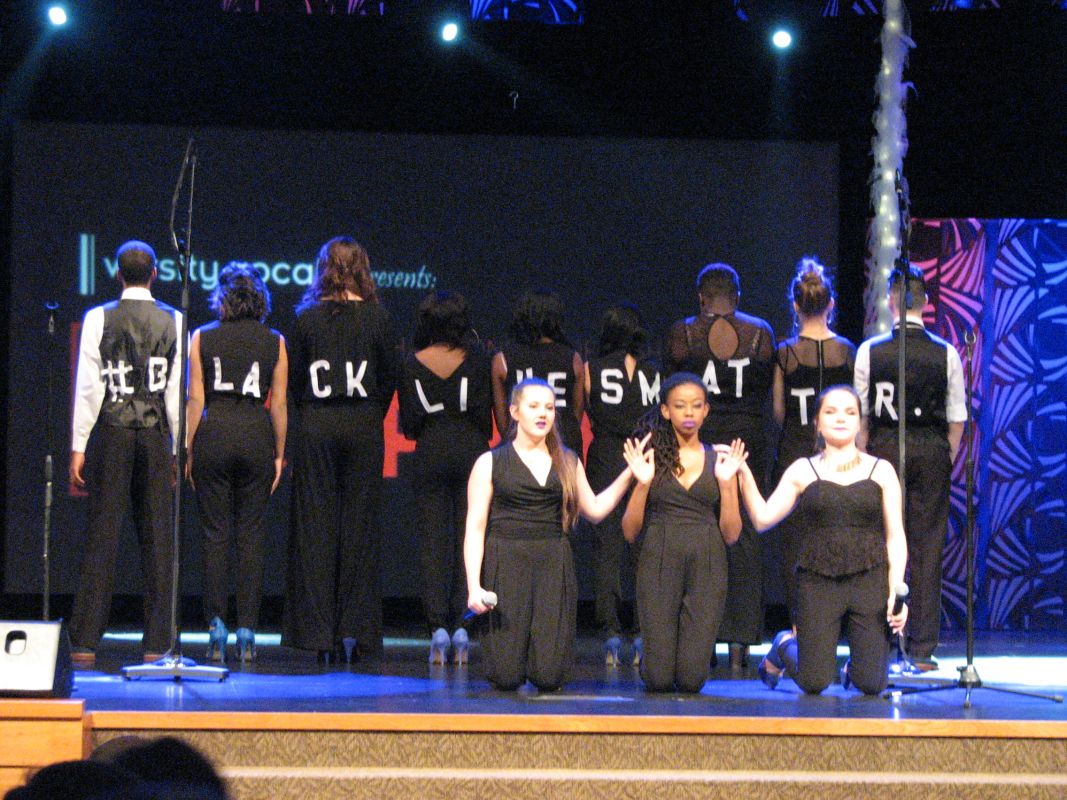 The group moved on to Mumford and Son's "Awake My Soul." Very nice hum opening on this one, with an almost electric quality. Lovely simple solo here, and the group demonstrated such a rich, beautiful blend. Subtle, perfect VP work. This is a softer side than I've heard to this group before and I really liked it. Nice little pop of sound to hint at the group's power and keep things moving before an instrumetnal break when the tempo picked up. Sensational bit of soaring harmonies on the finish there.
Vocal Rush wrapped up with Sara Bareilles's "Brave". Very soft and careful intro. At the risk of getting hyperbolic here, it's easier to follow a trend than to dare try to invent a new one--this felt like the rebirth of Vocal Rush, defying the harsher edged identity the group had set up for itself, in favor a group that really showcased its musicality that much more. Really nice creative choice to start clipping lyrics around the lyric to "let the words fall out." As I've written earlier, there are moments when groups can really tap into the core meaning of a song and use that understanding to create something new, and this was a perfect example. But Vocal Rush was only getting started. Lovely fall out moment, and a number of the group members turned around to reveal that they had spelled out on their backs "#BLACK LIVES MATTER." Goodness gracious, that moment gave me chills. Talk about capturing the very essence of a song. The idea of this song is that people should be brave enough to speak their minds and work toward a better world. And here we have a group of musicians--high schoolers no less--standing up for an ideal, speaking out on an issue that has rattled the USA throughout its entire history and come into much sharper focus over events of the last year. Yes, Vocal Rush sounded great and looked great, but what elevates this ensemble to level of all-time great scholastic a cappella franchises is their willingness to both take chances and make real statements, not only musically, but with a social conscience.
Soul'd Out closed out the competition. Black and turquoise duds for this crew. They opened with The House Jacks' "You Were Everything." Really good energy and rhythm section at work on this song. The group showed a lot of attitude and gusto on this song which was a great way to open the set.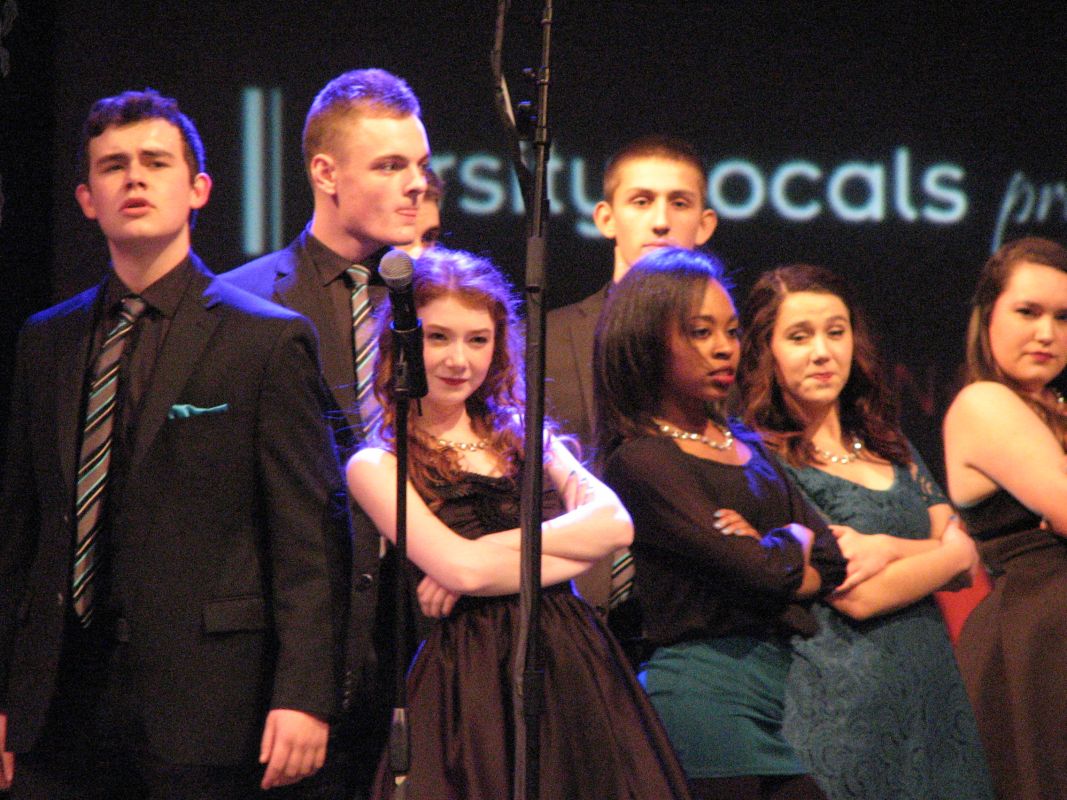 Next up, Jason Walker's "Echo." Nice staging with the soloist alone at center stange and the group clustered to either side on that intro. Really nice use of dynamics to stay precise while varying the dynamics artfully. I loved the choice for the song to culminate with a unison at the front of the stage--a really nice demonstration of what the song is communicating--that sense of being alone that, oddly enough, we all feel. Nicely rendered.
Nice flurry of motion into Soul'd Out's closer, Ed Sheeran's "You Need Me, I Don't Need You." There was some pretty phenomenal solo work on this one from a young man who not only could sing well and demonstrated stage presence, but who most remarkably of all had out-of-this-world breath control, taking the lyrics at a break-neck pace and never faltering. I liked the choreography was relatively simple for this song and that, rather than stage every motion, there was a lot more free-wheeling dance going on. That's the kind of movement that really sells a party mood. Fun bit of staging with the group clustered to one side and gradually groovinging its way back to center stage. Hands free back flip to cap a crescendo. Nice finish.
While the judges deliberated, Oregon State University Outspoken entertained the crowd with a really fun set including, "The Lion Sleeps tonight," "Sweater Weather," "Aint No Sunshine," "Ain't No Rest for the Wicked," "Your Man," "I Wish," "Will You Marry Me," "Not A Bad Thing," and "Classic."
As Outspoken performed, I figured out my picks for the night. There was a pretty remarkable collection of talent on hand, which made it difficult to narrow the field to a top few acts. To address just a few of my favorites, though, I appreciated The hOWLers and Satonics' fearless approach to competition, Spartacappella's care and precision, The Mixolydians' sheer attitude and energy, Rhythmix's ability to channel emotion, and the way in which Dynamics demonstrated excellent song selection and use of musical technique to generate an irresistible set.
Then there Soul'd Out, a group that attacked the stage with so much fire, while still revealing a softer side with "Echo." And there's Synergy. A group that offered a smorgasboard of activity, demonstrating remarkable range, depth and skill. It's rare to hear a group sing three such fundamentally different numbers and nail the musical timbre of every last one of them. They were a high school group more than worthy of hitting the ICHSA Finals stage.
The trouble for Soul'd Out and Synergy was that this show also featured Vocal Rush. Vocal Rush carved a niche for itself in the ICHSA Finals as a group that focused on edgy, fast-paced, high attitude music. I was positively captivated to hear the group reveal its softer side in this outing, starting jazzy, putting its musical chops on display, and then really listening to the message of a seemingly played out song like "Brave " and reapprorpiating it as an anthem of hope and a message song--culminating in one of the most simple, but positively beautiful moments I can remember in high school a cappella, reminding the crowd that black lives matter. Some folks may question a political message coming out in the competition setting--maybe Vocal Rush made them uncomfortable. Well, good. What we're talking about is an issue that shouldn't be political--this is a matter of human decency and a sensational group using its profile and platform to tell us what we all really ought to already know. I'm not hear to preach, but I can hardly express how much I applaud the bold, mature choice of Vocal Rush to use the stage with an eye toward making a difference. Beautiful. And, yes, undeniably the stuff of champions.
Vocal Rush did win the night and capped the evening with their encore, India.Arie's "Just Do You." All in all, this was a pretty sensational night of high school a cappella and, for me, an excellent way to start the competition season. Check back later this week for a review of the Oregon ICCA quarterfinal that occurred the next night.
Mike Chin's Picks for the Night
Overall Placement
1. Vocal Rush
2. Synergy
3. Soul'd Out
Outstanding Soloist
1. Vocal Rush for "Brave"
2. Dynamics for "Rivers and Roads" (female backing lead)
3. Soul'd Out for "You Need Me, I Don't Need You"
Outstanding Visual Presentation
1. The Myxolodians for the full set
2. Synergy for the full set
3. Vocal Rush for the full set
Outstanding Arrangement
1. Vocal Rush for the full set
2. Synergy for the full set
Outstanding Vocal Percussion
1. Vocal Rush
2. The hOWLers
3. Synergy
Official ICCA Results
Overall Placement
1.Vocal Rush
2.Soul'd Out
3. Rhythmix
Outstanding Soloist: Dynamics for "Just for Now" and Rhythmix
Outstanding Choreography: Vocal Rush and The Mixolydians
Outstanding Arrangement: The Mixolydians for the full set and Synergy for "Sang, Sang"
Outstanding Vocal Percussion: Vocal Rush