Earlier today, I had the honor of joining Musae/Overboard/Delilah's Johanna Vinson and Syracuse radio personality Mike Fiss to serve as judges at the inaugural A Cappella Showdown event at the Turning Stone Resort in Verona, New York. Nine groups competed, each allotted ten minutes to put forth the best set possible. I was focused on completing my scoring assessments, and listening for some different qualities than I ordinarily do; thus I didn't take nearly as copious notes as I ordinarily would when covering an event for The A Cappella Blog, and don't have a comprehensive write up to share. Therefore, what follows are a handful of thoughts from the show, rather than a complete summary and review.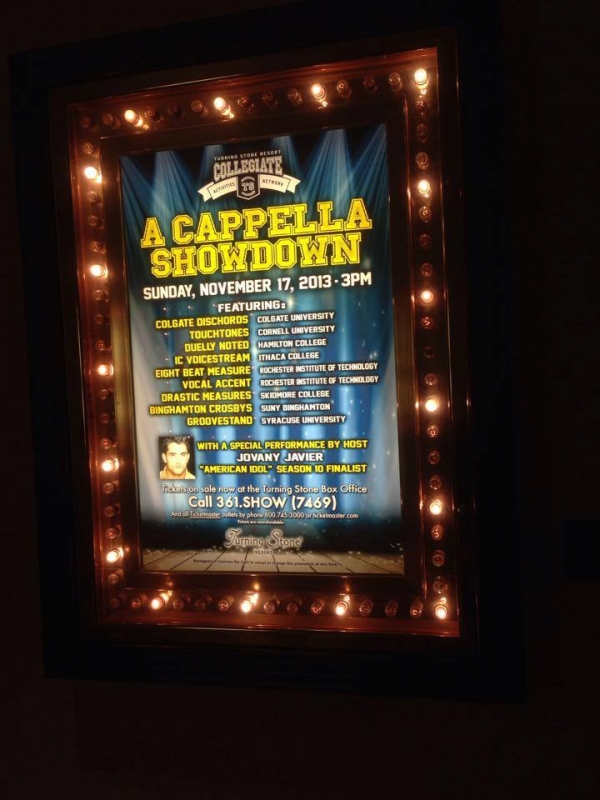 American Idol alum Jovany Javier had emcee duties for the afternoon and treated the audience to a couple of his own exceptional vocal performances along the way.
The first group to compete was Rochester Institute of Technology Eight Beat Measure. The all-male group brought a nice fullness of sound to stage and good energy for Usher's "Scream" and John Legend's "All of Me." I liked the contrasting styles between songs and that the guys were able to find fairly distinctive selections without dipping into inaccessible repertoire. Strong soloists, particularly on "All of Me," which the guys arranged and executed very smartly to incorporate some artful fall out moments so the soloists could operate unaccompanied. The guys over-choreographed a little for my tastes, but when their movement meant something to the piece it was pretty phenomenal—take their brilliant moment of scattering across the stage by degrees as the group sound dissipated on "Scream." Movement that enhances and complements the music without being overly literal adds a ton to a group's visual presentation, and that element of the performance worked really well. Time constraints being what they are, I get that the group didn't have time for a full third song, but I couldn't help feeling that one more number could have helped round out the set and really shown the full range of what these guys are capable of. That said, Eight Beat Measure is a skilled group, seasoned in competition settings and their experienced showed.
Next up Skidmore College Drastic Measures sang. The co-ed group opened with "Mama Who Bore Me" from Spring Awakening, highlighted by a pretty brilliant soloist and some neat bits of fractured sound when the group accompaniment cut in and out in clean, staccato fashion. The group's take on "I Knew How It Would Feel To Be Free" by John Legend was really well constructed and the chemistry between the two leads was especially good. While not poor by any means, I would have liked to have heard a little more umph from the group's closer, "Woodstock," which was perfectly fine but not especially memorable in the broader scheme of the show. Drastic Measures is the sort of group that finds itself at an interesting place, with a lot of potential—in my estimation, they have a real wealth of talent and when they've had the time to polish the edges of their set and start to make more impactful song selections, they could be real force.
The third group was The Colgate University Dischords. First off, I'd like to give the group credit for shrewd song selections relative to the audience at hand. Songs like "Radioactive" and "Somebody That I Used to Know" are a little played at major a cappella competitions, but in front of a more casual, general audience, these are exactly the sort of catchy radio songs that get people tapping their feet and engaged. The choreography, particularly for "Radioactive" demonstrated a lot of ambition, but I'd love to see the group sharpen and grow more confident in their movement. Waving their arms up and down on the opening, and collapsing on the soloist at the finish could have been awe-inspiring visual moments, but instead felt staged and self-conscious—hopefully some more practice can help the group fully realize its vision for movement on that song. The Gotye song was well-sung but felt a little long; one of the toughest things that a group of highly competent musicians has to do is find ways to make their technical proficiency connect with the audience at a more visceral level, and I feel as though that's going to be the next big step in helping The Dischords ascend to a higher level.
The Binghamton Crosbys performed next. There was a palpable change in the aura of the show when the guys hit the stage, exuding confidence and power, slamming the audience with sureness and fullness of sound the likes of which only Eight Beat Measure had approached up to that point. Excellent aggressive, raw solo on The Allman Brothers' "Whipping Post," and the song featured a scintillating electric guitar solo between verses. You really only want guitar solos in a cappella if you can pull them off to the Nth degree. The Crosbys had it covered. The guys followed with "Fireman." For the setting, the song choice was fine, though I weary of hearing this gag song in 2013 after it has been making the rounds in all-male collegiate circles over the last six or seven years. Perfectly fun song choice for a campus show (and the guys executed it nearly flawlessly) but I don't love it as a competition song, aside from it being short enough to wedge in a third, different side of the group between their more fully realized material. The Crosbys wrapped up with Black Sabbath's "War Pigs" featuring another fine soloist and some truly inspired bits of body percussion that really brought the performance to life. Of all the groups at the Showdown, I couldn't help feeling The Crosbys had most fully realized their identity as a classic rock group with edgy sensibilities, that offered the best melding of entertainment and musical skill.
Next up were The Cornell University Touchtones, the first all-female group of the afternoon. Their first two songs offered excellent continuity and consistency of tone with Bruno Mars' "Runaway" leading into "Royals" by Lorde. Each of these songs offered slick sound, fluidity and complexity of movement. They offered up a clear, sexy identity for the group that I thought really worked for them. Their closer, "Radioactive," was a bit of a head-scratcher for me because it diverged from the sound of the first two numbers in a way that felt outside the group's natural tone and comfort zone. While they executed it ably, the song selection didn't do the group any favors or shed positive light on another, interesting element of the group (besides the song itself being pretty overdone in collegiate a cappella at this point). Just the same, on the whole I was really pleased with what The Touchtones brought to the stage, offering up a level of feminine energy and chemistry that was genuinely different from the rest of the afternoon's groups, and putting on an excellent performance from a technical perspective.
Rochester Institute of Technology Vocal Accent, the competition's other all-female group, performed next. They opened with Macklemore's "Can't Hold Us." Was the execution flawless? No. Was the concept bold and borderline brilliant? Oh, hell yes. The rap lead attacked her part on this song with sensational bravado and a ripping cadence. While the group wasn't one hundred percent committed behind her, and I thought the backing solo could have been a little smoother and the group sound a little cleaner, there was a lot of effort on stage, and I think with some more time spent on this song, the women could have something really special. ZZ Ward's "Put the Gun Down" was strong, too, but a bit of an adrenaline drop after the opener. One of the toughest things about a ten-minute set is figuring out how to sustain interest and energy from end to end, and unfortunately this second song wasn't particularly memorable in the shadow of the group's opener. At this stage, I think the best things Vocal Accent have going for it are courage and ambition—a willingness to go all out and defy the soft conventions of all-female a cappella. This group has a world of potential.
Up next was Hamilton College Duelly Noted. The group used a fun sample of "Somebody to Love" as a lead in to Whitney Houston's "I Wanna Dance With Somebody," and followed with Stevie Wonder's "As." The tuning was really clean on these songs, though I felt myself craving a bit more complexity of sound. Conversely, the group's movement, particularly on the opener, was exceptionally complex, and I'd actually advise them to slow down and simplify things a bit to make their bigger movements mean more and let the audience appreciate everything they're doing. The group wrapped up with a pretty inspired "Telephone Medley" that was pretty intricately arranged to bob and weave across time periods and genres, anchored in "Call Me Maybe" and "867-5309 (Jenny)." The performance was impressively choreographed, including lighting effects with actual cell phones. All in all, I think the ambition and complexity of the group's closer demonstrated what it's capable of and I hope they'll continue to innovate in that style moving forward.
The penultimate competing group was Syracuse University Groovestand. Really rich, if simple group sound on the opener, Beyonce's "I Care", which was suitable in order to spotlight an excellent soloist. The group followed up with a medley including "Troublemaker" by Olly Murs and "You Drive Me Crazy" by Britney Spears. Again, the soloists were the stars here, but had the benefit of some nicely handled perc on this one. Groovestand isn't afraid to sing boldly and has the tuning to back it up, which made for a rich sound. On the other hand, I found their visual presentation really uneven. At its peak, there was some genuine highlight reel material in the medley, with intricate, meaningful movement that was among the best all afternoon. At its low points, the group gave us touch step movements and rhythmic bobbing that felt a little out of place, if not actively distracting from the music. It's tricky to say no to choreography when your group is capable of great movement, but as I discussed with a few singers after the show, the absence of movement is usually better than totally extraneous or poor choreography. All in all, it was a solid showing for Groovestand, in my estimation one of the northeast's most consistently solid a cappella groups over the last decade or so.
Last up, co-ed Ithaca College Voicestream took the stage. Their take on Jack White's "Love Is Blindness" was quite good, particularly for the conscientious use of precise, varied dynamics—something I would have loved to have heard more of from other groups across the afternoon. Very good solo there, too. The group followed up with another rendition of "Radioactive." In addition to wanting to show your creativity and surprise the audience, another reason to steer clear of songs this popular in a cappella is to avoid what I'll call "the repetition effect." It's quite arguable that Voicestream offered up the strongest of the afternoon's three interpretations of "Radioactive," but for the sheer fact that the audience was hearing it a third time there was a palpable sense of weariness from the crowd. Fortunately, the performance did include some fun samples of other material, and spotlighted a really stellar soloist to help keep things interesting. Like the other groups that rested after two songs, I thought Voicestream really could have benefited from a third number to have shown another side of themselves. Nonetheless, it was a solid outing for the Ithaca group.
As us judges finalized our scores, the audience voted via text message. I had The Crosbys as the winners, with The Touchtones, Eight Beat Measure, Duelly Noted, and Groovestand all in very close contention for the top runner up spots. One quirk of this competition was that the judges had input on the placement of groups, but the audience's voting counted just as much as that of any judge. I have mixed feelings on this set up. On one hand, it makes sense that the audience members who took the time to attend and paid their money for tickets should have a say in who finished on top. On the other hand, though all of the groups performed well, I will say that the final placements left all three of the judges surprised, which is an odd dynamic for a competition.
All of that said, The A Cappella Showdown was an excellent showcase event for Upstate New York a cappella, putting a variety of talented groups on display. The lighting, sound, and overall production and organization were top notch and my hat's off to Collegiate Events Coordinator Bill Greco and the rest of the Turning Stone team for an excellent event.
ACB Picks
Overall Placement:
1. The Crosbys
2. The Touchtones
3. Eight Beat Measure
Outstanding Soloist: The Crosbys for "Whipping Post"
Outstanding Visual Presentation: The Touchtones for "Runaway Baby"
Outstanding Arrangement: Duelly Noted for "Telephone Medley"
Official Results
1. Duelly Noted
2. Groovestand
3. The Crosbys
4. Eight Beat Measure
5. IC Voicestream