Game Over is a new release from Soul2Soul, an all-male group out of Miami University.
There's plenty to admire about this album. First and foremost may be the slick production work, including editing by pros James Cannon and Ted Trembinski, mixing by Matt Caruso of ACappellaPsych, and mastering by Bill Hare. The album sounds clean, even, and professional, and I generally feel that groups give themselves the greatest opportunity to succeed when they set up their vocals to shine in the hands of pros who not only know how to assemble tracks, but who also won't swab tracks with too heavy a brush and risk losing the particular a cappella idiosyncrasies that really make them shine in this format.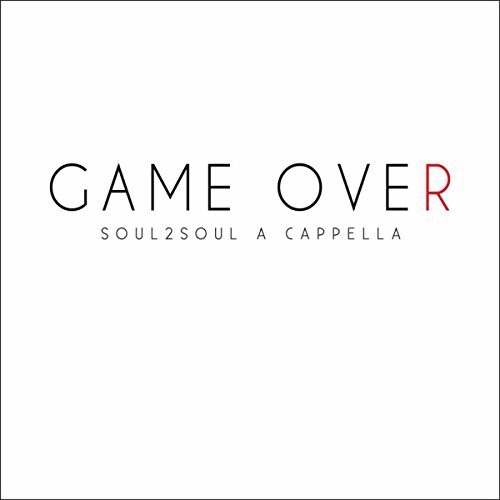 The other highlight of this album was Soul2Soul's earnest manner of capturing the spirit of the songs they sung. The album opens with Old Crow Medicine Show's "Wagon Wheel" and offers a stripped down version of the song that lets the lyrics breathe and the group's harmonies shine. The group shrewdly juxtaposed this song with Sam Smith's "Latch," one of the most heavily produced tracks of the album that features a complex arrangement, nicely executed bit of falsetto solo work, and tempo changes that demonstrate both the group's dexterity and versatility. Putting these songs together showcased that this group is able to tap into the core of its songs and reflect their source material within their own creative choices.
While I credit Soul2Soul for staying true to the music they chose to represent, I would have loved to have heard them also grow a bit more ambitious with parts of this album. Their cover of Andy Grammer's "Keep Your Head Up," for example, is steady and simple, as is the original song, but ultimately feels much longer than it is actually is for lack of any discernible bells or whistles, or moments of dynamic tension. On a comparable note, their take on OutKast's "Hey Ya!" (performed more in the style of the Obadiah Parker cover) takes a soft, soulful spin on a classic, but fails to capitalize on opportunities to complicate the track, like really busting loose when the excellent percussion keys in and the tempo picks up toward the end of the song. I had a similar sense that "Slow Down" had the potential to be a party track but that the group erred too far on the side of musical precision rather getting more raw to have some fun with the track.
The second half of the album includes two medleys. The group's assemblage of Beyonce songs works in the sense that they wisely chose not to take the songs too far over the top or play them for laughs, but rather treated them as a serious musical composition and performed ably. Just the same, I couldn't help asking myself, why this medley and why now? At this point, an all-male group performing Beyonce has little more novelty than an all-male group singing Lady Gaga, and I couldn't resist the sensation that I've heard more-or-less this exact medley three or four times over from different groups. I understand that albums take time to put together, and that Soul2Soul may have fallen victim to a novel enough idea getting played out by the time their tracks hit iTunes. Just the same, I would have loved to have heard a similar idea and execution applied to either a newer or a less-exposed cross-section of the Beyonce catalog.
Fortunately, Soul2Soul did a lot to win back my good will with "Edm"—a medley of electronic dance music highlighted by samples of Zedd's "Clarity" and "Stay the Night," and "I Need Your Love," originally performed by Calvin Harris. While I still would have loved to have heard a smidge more raw, guttural energy and punch from this group, this track did the best job of synergizing a slick arrangement, clean blend, a more modern sound, and some production polish to deliver a fully realized song—a perfect capper for the album.
There's no mistaking that Soul2Soul is a group on the rise. With the potential they demonstrate on this album—particularly in their closing medley—there's every reason to think this group has big things in its future. While some of its ambition is under-realized now, Game Over is certainly a worth a listen.