Disclaimer: This review contains a number of spoilers. If you haven't yet seen Pitch Perfect 2 and don't want anything spoiled, please read no further.
Let's get this out of the way up front: Pitch Perfect 2 was not as good as the original.
Most of the best humor from this film is derivative of gags from its predecessor. A number of the over-the-top one-liners (particularly from commentator John and Bella Flo) cross the line from absurdist humor to very arguably actively offensive. The romantic sub-plots are blunt and infinitely less satisfying than the Beca-Jesse courtship in Pitch Perfect, and the plot on the whole feels a bit scattered and unfocused. All that, and between the focus on the fictitious "Worlds" and the surreal underground riff-off scene, the film feels like less of an amplification and celebration of the legit a cappella world, more like a flight of fancy that vaguely nods toward aca-realities.
OK, so there's your run down of how this film feels from a more generalist perspective—the same sort of perspective you can get from reviews on a thousand other websites that are not concerned with a cappella beyond the context of this film franchise.
I'd like to spend the rest of this review drilling down to how this film landed for the a cappella community, and what I felt it really stood for in that context.
In that context, I loved this movie.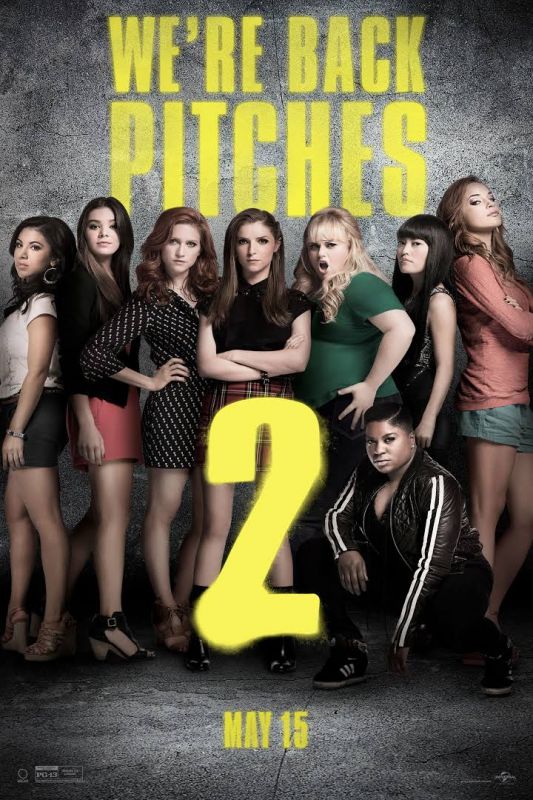 Around the time The Sing-Off first hit the airwaves, I remember reading some minor-scale backlash against the show being framed as a competition, which implied eliminations and just one group ultimately winning. I remember super articulate responses from Deke Sharon and others about how competition was required to sell a show like this to a major network and to the masses.
I found myself rediscovering this debate as I watched Pitch Perfect 2. I wondered if competition were really essential to a movie like this and, moreover, after escalating from the very real ICCAs to the fictitious World A Cappella Championships, where Pitch Perfect 3 might land (a cappella in space, anyone)? I thought of ways this film could still work without the foregone conclusion that the underdog Bellas would again win a big competition to cap the film.
But then I started thinking of Pitch Perfect 2 and the original film as meta-narratives, not entirely unlike The Sing-Off. Of course we're supposed to believe there's a competition and there's championship glory at stake. But really, in the context of the a cappella community, both brands have always been about celebrating collaboration over competition. Sorry to spoil this for folks who may not have realized it, but the folks on The Sing-Off are friends and family. They worked together, played together, and proceeded to tour together. Of the dozens of former cast members I've spoken with, I don't recall any of them ever speaking resentfully about who should have won or how they got robbed—on the contrary, they all talk about how cool so-and-so is and how much they learned from some other group. Moreover, the combined forces of folks like Deke Sharon, Ed Boyer, Ben Bram, Rob Dietz, Chris Diaz, and company may have offered the greatest unified a cappella creative force ever assembled behind the scenes.
Pitch Perfect 2 is a continuation of that legacy, with so many of the same names involved in musical production, direction, and arranging; not to mention guest vocals from a cappella luminaries like Jo Vinson, and guest appearances on screen from groups like Pentatonix, The Filharmonic, and Penn Masala. Perhaps the greatest embodiment of this dynamic occurs in the final movements of the film, when past generations of Barden Bellas join the current crew on stage—a manifestation of different generations of a cappella talents uniting and creating something beautiful and new in the original song "Flashlight."
Speaking of "Flashlight," the use of this song in the film was the other main highlight for me as an a cappella community member. If we consider the first Pitch Perfect as a commentary on ICCA culture, then that film's thesis was all about empowering all-female a cappella—that it's time to put the Natalie Imbruglia aside in favor of newer music, less rigidly divided along gender lines, and reinvented in a group's own image.
Pitch Perfect 2, in similar fashion, championed the development of original music in a cappella. As so many pundits have been saying in recent years, original songs are one of the keys to the long-term legitimacy for the a cappella form—not reducing a cappella groups to cover bands or purveyors of mashup gimmickry, but rather letting them stand tall as original composers and performers of significance in the broader musical landscape. In real life, 2015 saw Centreville High School Forte bring two original songs to ICHSA Finals, and The Vassar Devils sing an original at ICCA Finals. Groups like them and The Johns Hopkins University Octopodes who released the all-original album The Kraken earlier this year, and Arora that released all-original Bioluminescence the year before that, are at the vanguard of a movement. Pitch Perfect 2 may well have been the battering ram needed in order to finally knock down that door and open the floodgates to a new brand of song writing, and to spark a fascinating new aca-era.
Like the original Pitch Perfect, its sequel is at its best when it lets the music do the talking for it—inspired industrial a cappella from Das Sound Machine, an infectious riff off, a fun nod to all-male collegiate bravado courtesy of The Treblemakers, and, of course, an inspired finale from The Bellas. Heck, there's even the (disappointingly non-a cappella) Fat Amy-Bumper duet to "We Belong." Yes, we can pick away at the imperfect pieces—many of them noted at the top of this review. But when you look at the bigger picture, let yourself laugh, and, more importantly, let yourself listen, I'd argue this film hits all the right notes.