Mister Tim is often billed as a one-man vocal band, and it is pretty remarkable to consider that all the sounds in The Funky Introvert were performed, recorded, and produced by just one person. While he's been involved in quite a few projects, including a cappella comedy outfit Moose Butter and with-instruments band Delilah's Revenge, Mister Tim may have found his most unique voice in this one-man form, combining a diverse oral toolkit with real skill in looping to produce a pretty remarkable act. While much of Mister Tim's previous work has been comedic or rooted in covers, The Funky Introvert marks a departure into all-original music, without playing for laughs. I'm pleased to say the experiment is by and large a success.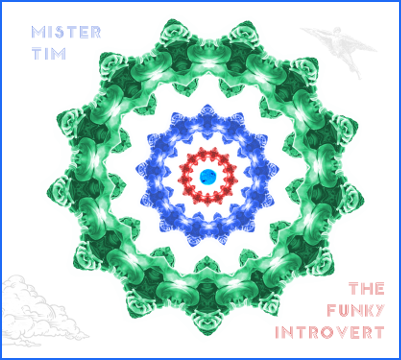 The Funky Introvert is at its best when Mister Tim synergizes cool effects with shrewd musical decisions. The lead vocals on "There Must Be Something More To This" sound robotic for much of the song, but the song really opens up on its most soaring human vocals—thus telling a really cool story about the juxtaposition of technology with the human voice, both literally and figuratively. Mister Tim realizes a similar effect on "Fly" when a monster crescendo coincides with a distortion effect for a really cool, distinctive moment. Two tracks later, "Full Set of Heartbreaks" takes on grooving pop sensibility that, at first blush, could be mistaken for a Pentatonix track.
While not a comedy album, Mister Tim also scored some successes via some lightweight, free-flowing tunes that were full of energy and easily could have veered into more comedic territory. "Bang on the Door" may well be the catchiest song of the album. "Momma, Poppa" sounded quite a bit like The Strangeloves' "I Want Candy" to my ear, and captured a similar fun, catchy groove that's bound to stick with folks long after they've finished listening to the song.
There were points at which The Funky Introvert walked a fine line between Mister Tim's comedic roots and a more serious side. Despite an infectious melody, the lyrics to "Beatnik" came across a bit strangely overly literal to me. On a similar note, "I Have Become" has a positively menacing edge to it, but I wasn't sure how to read the recurring line "I have become a compulsive chewer of gum" as anything but comedic and out of place amidst the more serious tone of the rest of the song (I kind of hope it was a reference to the iconic line about bubblegum They Live, but that seemed like stretch).
One of the most impressive elements of The Funky Introvert comes down to form following function. For example, "Monument" comes across relatively cold and stripped down, a sound to mirror the familiar look and feel of a stone pillar or statue, before the song blossoms to a flourish in its final minute. Similarly, "Bubbles" is the softest, most ethereal of tracks on the album, and smart piece to set up, by way of contrast, the party vibe of the album closer, "Stick Around."
On the note of album flow, Mister Tim clearly took care in arranging tracks, going to the extreme of splitting "Are You Satisfied?" into two parts—the first part the third track, the second part the third to last track, lending a sense of symmetry to the album on the whole.
Perhaps the highest praise I can give Mister Tim for The Funky Introvert is that it's a sleek, expert enough album to appeal to non-a cappella fans, with enough technical brilliance, ambition, and creativity to be of interest for a cappella practitioners to study, dissect, and be inspired by. As Mister Tim sings over a looping muted trumpet in "Tango," "The hardest journey never ends if you never dare to start." Music fans from within and outside the a cappella world should feel grateful Mister Tim undertook this worthy journey, and allowed us all to enjoy the final product.
You can learn more about Mister Tim and buy tracks from The Funky Introvert at his website.