A year ago, Forte was one of a number of very good high school a cappella groups across the country, its first CD a year behind it, looking ahead to a run at International Championship of High School A Cappella (ICHSA).
Today? Forte has earned a reputation for itself. The group finished in second place at the ICHSA International Finals. They provided a brilliant coda for Ben Stevens's celebrated Essential Listening talk at SoJam. And there's the CD.
I don't know that there has ever been a more anticipated high school a cappella album than Life's So Lyrical. The fervor over this project can most aptly be summarized in two words: "all original."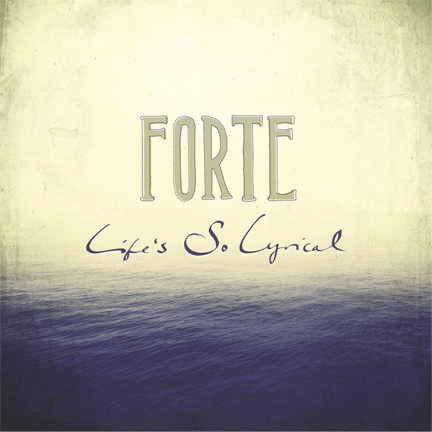 Forte isn't the first a cappella group to record an album of all original music—a number of professional groups and even some college groups have done it before. But it's a rare undertaking, and one that's all the more rare for a collection of teenagers. I've long postulated that the next step toward mainstream legitimacy for a cappella is more original music: the point at which a cappella groups on the whole are seen as more than quirky cover artists, but original musicians. A project like Life's So Lyrical stakes a claim in that direction.
But how did the CD turn out?
The album is remarkably clean and polished. That should come as little surprise given the veritable all-star cast that worked on mixing, mastering, editing and recording the album (Plaid Productions, Liquid 5th, Ed Boyer, James Cannon, Tat Tong, Ed Boyer, Dave Sperandio, Nick Girard, John Gentry, Brianne Holland, and more), not to mention a stellar cast of professional arrangers (Deke Sharon, Ben Bram, Christopher Diaz, Lo Barreiro, Robert Dietz, Bryan Sharp, Noah Berg, and others). Indeed, Music Director Ben Spalding put the group's Kickstarter funds to pretty spectacular use. Nonetheless, this is one of those projects that warrants none of the "it's good for a high school group…" qualifiers. It's darn good. Period.
For me, the most grabbing track on the album is "My Hat Is Awesome," a song that's title may suggest something farcical, but for which the music and lyrics deliver a remarkably complex, conflicted, and satisfying piece of music. The quirkily arithmetical opening lyrics seem to bridge the gap between high school academics and high school angst, and the way in which the two are inextricably intertwined throughout the lives of so many of us. We read Romeo and Juliet when we're first falling in love. We study biology whilst our bodies are changing. While we might not have so direct an application for trig or pre-calc, at the time we're learning it, the process of solving all these math problems has a mental link to the joys and drama of high school life. I may be putting words in Forte's metaphorical mouth, but that's what I felt when I listened to the track. That, and that I was listening to an original song that easily stood up to originals from the top mainstream songwriters working today.
"My Hat Is Awesome" functions as a vanguard of sorts for other pensive tracks like "Mannequin," and emotionally rich material such as "Walking Out the Door," a haunting song of mature melancholy.
Lest you leave this review thinking that the album is altogether melancholy, I'd be remiss to ignore tracks like "I'm Coming Up" a sublime club track that's far less about lyrical nuance, and far more about an infectious rhythm and feel. A defy anyone not to internally repeat the lyrics "I feel a little funny, I feel a little fly" after listening to this track. The results of "Celebrate" are not so different.
The spirit of the group is most clearly on display in the album's title track, "Life's So Lyrical." The words, "Life so lyrical, and music's a miracle" provide far more than a catchy rhyme, but an ode to the way in which music permeates our lives—it feels simultaneously ubiquitous and inevitable, and for those very qualities (not to mention the beauty it brings) how can we look at music as anything short of miraculous? Forte captures these thoughts far more eloquently than I have here, and pairs them with an upbeat melody to truly celebrate the form.
Life's So Lyrical is a special album by a special group. I don't know what the future of a cappella may hold, but if kids like the ones from Centerville High are at the helm, we don't have anything to worry about.