On "Be Mine," the second track of Bioluminescence, the lyrics intone "we're just two charged circuits making electricity." This singular moment encapsulates an album, if not the entire story of a vocal band.
Let's take a step back. Prior to this past summer, the a cappella group at hand was known as Sonos. After two albums, losing one member, a run on The Sing-Off, and building a name as one of the most celebrated ensembles in the a cappella community (a group Pentatonix has gone on record to say inspired them), the crew dropped a new album of all-original music and took a new name. Thus began the new legacy of Arora.
Arora's most oft-used tagline is "vocals + electronics." While two words and a symbol may oversimplify a five-member group with a strikingly complex sound, that simple bit of addition is truly representative of what Arora is all about. When it comes to this album, the group amounts to five charged parties synergizing to make (and make the most of) some very real electricity. Five bodies, no instruments, lighting up a stage—could the end result be called anything but Bioluminescence?
Perhaps I'm getting too far ahead of myself again, but much like the Sonos recordings that preceded it, the group's first album under the name of Arora shimmers in the gestalt of some of a cappella's top vocal talents, truly masterful use of electronic effects and production technique, and out-of-this-world songwriting and arranging. "Be Mine" captures the essence of everything the group does—sultry and infectious with an current running through it. But make no mistake, the track is little more than a starting point for an exceptional album.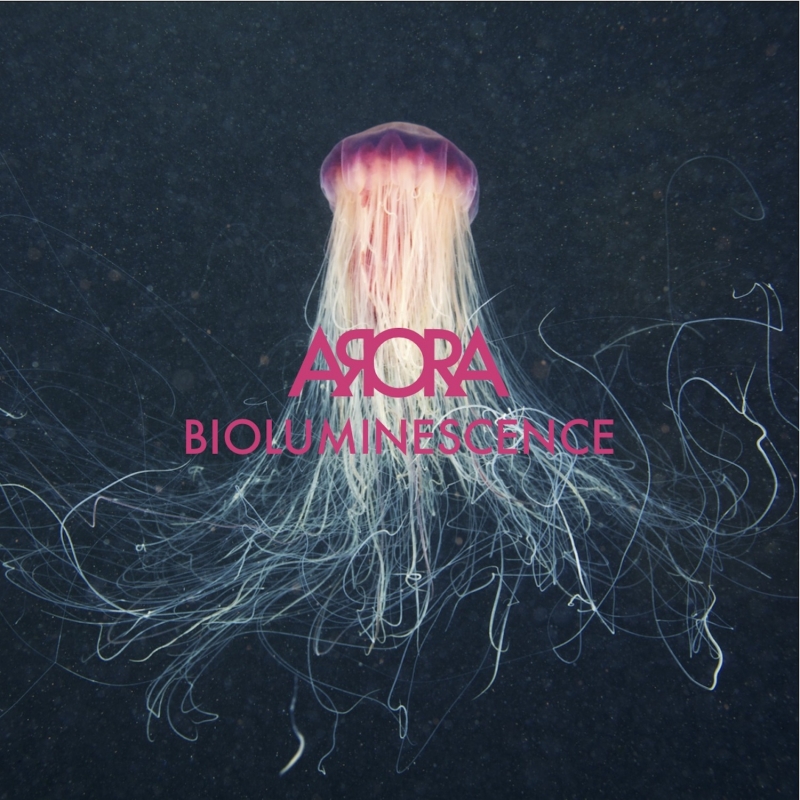 Bioluminescence is defined by complex loops of sounds, repeating and layering over themselves; by the same token, the lyrics also tend to circle upon themselves. Tracks like "Start Again" and "Satellite" embody these effects. "Goldmine" has a similar structure, but a slower, warmer style that echoes earlier music from the group—the kind of music that wouldn't be out of place as the backdrop Hollywood scenes of desire and seduction.
"Discover" conveys a sense of urgency, capitalizing on the range of vocals present in the group, doubling up the lead between male and female vocals to not only add a layer of complexity to the music, but to make it feel more conflicted and universal.
The two-song set of "Lock the Light" and "Silver Hand" represent the most heavily electronic and simultaneously most dark segment of the album, featuring heavy background instrumentation, overlaid with much softer lead vocals, culminating a plea of "you've got to drink with me" which perfectly embodies all the weakness and desperation that runs precisely counter to the backing riffs.
"Carry Your Heart" is a surprising, but clever closer, presenting the softest side of Arora, a simple love song that demonstrates beneath the effects and vocal nuances lie five fundamentally sound vocalists with a gift for drawing the listeners in to tell a story. The closing bars of the song strip don Arora in its simplest form—one lead with the softest of harmonies beneath her.
As impressive as all of the aforementioned tracks are, Bioluminescence is at its most sublime when it transcends its undercurrent of sexuality and dreamscapes to arrive at the group's most profound meditations in two truly sublime tracks: "The Bridge" and "Morning Light." As Michael Eldridge explained in his keynote address at ACappellaFest, Ben McLain wrote "The Bridge" in response to a documentary by the same name, centered on people who came to the Golden Gate Bridge to jump to their deaths.This opening track leads off with scatter shot notes that keep the listener on edge, and proceeds to hit us with a heavy heart, a rush of soaring vocals, and mesmerizing hooks that are at once uplifting and inescapably tragic. I dare say this is one of the compelling original compositions in contemporary a cappella.
While "Morning Light" may not feature quite the same level of ambition as "The Bridge," the track is similar in that it encapsulates Arora in its adult state. The group is probably still best known for its sexy, slow covers of songs like "Wicked Game" and "I Want You Back," but "Morning Light" represents a step past one night stands and youthful obsession. It's a song about building a relationship—apologies, compromise, and a desire to grow. The understated harmonies grow beautifully more complex as the song carries on, the composition and execution of the music very much mirroring the message of the lyrics to tell an elegant and hopeful story. Pair this one with "Reconcile" at the end of the album and you have the sense of both sides of a fractured love story in which the narrators are ready to reassemble all of the scattered shards and pieces to build something stronger.
Bioluminescence is one of the most impressive a cappella albums I've heard in years. It's a stunning collection I'd readily recommend to non-a cappella fans; it's compulsory listening for those in the aca-community.