The wait is over. Welcome to The A Cappella Blog's 2012 publication season!
This isn't the start of just any season, though. This is the start of season number six, which means that this January marks the fifth anniversary of the founding of The A Cappella Blog.
The idea first sparked in my mind in early 2006, under the title of Average Joe's A Cappella Blog. The idea was to review ICCA shows and write columns from an everyman's perspective—getting to the heart of performances rather than getting lost in musical technicalities. I first shared the idea with Mike Scalise that March, over a six-hour-plus car ride to Rhode Island to watch my then-girlfriend's group perform at an ICCA quarterfinal at Brown University.
The weekend ended with the girl and I not speaking to one another, after I was a bit too candid with my appraisal that, no, her group didn't deserve to win that night. Hurt feelings aside, after discussing the idea of an a cappella website with Mike, I felt all the more certain we were on to something.
Fast forward a few weeks and Mike and I took a spring break train ride to visit my sister and my brother-in-law in Chicago. We spent hours of the overnight journey in the dining car sipping coffee and mapping everything from website-related travel ideas, to our homepage design, to marketing schemes. When we arrived in the Midwest, we had a legal pad full of ideas to pull from.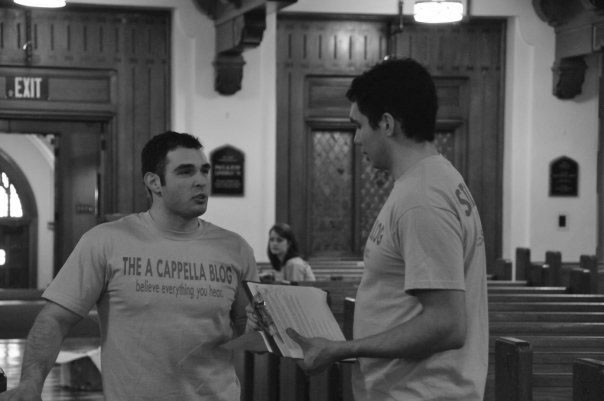 The following summer and fall we met a couple times a month in coffee shops, Chinese restaurants, and Paneras in-between where we were living in Syracuse and Utica, NY, respectively, at the time to further iron out our plans. We emailed nearly 100 a cappella groups to seek interviews for our fledgling site. Though nowadays it's not unusual to have a number of groups contact us in a given week to seek coverage of their show, a CD review, or help with a fundraising campaign, back then, it was slow-going finding support for two unknowns with a new blog. Fortunately, we did find a bit of traction. Hot off a trip to the ICCA Finals, Oxford Out of the Blue agreed to one of our first high profile interviews, and Oregon's On the Rocks and Divisi, and the Brown Derbies were quick to follow. We managed to catch Tulane University's THEM for an inspiration word as the group and its local community rebounded in the wake of Hurricane Katrina. We were off and running.
In addition to interviews, we reviewed five ICCA shows in that first season, including a controversial review of the Mid-Atlantic Semifinals at Rutgers that quite easily set a record for site traffic at the time and drew over 50 comments. Plenty of folks disagreed with our appraisal of Syracuse University Orange Appeal as the rightful champions, and our support of Penn State Shades of Blue and Drew University 36 Madison Avenue as runners up (none of these three groups actually placed). But perhaps most significantly of all, this review proved the power of a blog and a singular event review to facilitate conversation, and demonstrated the liveliness of the a cappella community.
Over the years that followed, we introduced regular features like Tuesday Tubin', Measure for Measure, Dos and Don'ts, Friday Factoid, Statistical Findings, Absurdist A Cappella and more. We had guests like Nancy Cheng and Eric Talley join us for various spells, in addition to guest columns by the likes of Amanda Newman, Deke Sharon, Mickey Rapkin and Bill Hare, and interviews with Ben Folds, Dave Brown, and other major a cappella personalities.
February 2010 marked a new milestone for the ACB when we had the opportunity to host an ICCA quarterfinal at Nazareth College in Rochester, NY. This behind the scenes look at the workings of a show lent us new perspective, and turned out to be one of the most fun ventures we've ever had with the website. Best of all, ticket sales, paired with the sale of wristbands, gave us the opportunity to donate hundreds of dollars to The VH1 Save the Music Foundation.
And so, we arrive at the present. We have a brand new site design, courtesy of of dear friend, design consultant and photographer, Will Browar. Like years past, in 2012, we will bring you ICCA event reviews, opinion pieces, videos, and the latest news. We're excited to facilitate the third annual ACB ICCA Bracket contest. In addition to all of this, keep eye out for these new features:
Not So Different: Life is full of lessons to be learned. When we're thinking about how to best lead, promote, sing, or otherwise operate within the context of an a cappella group, it's worth looking beyond the realm of a cappella itself to what other walks of life can teach us. In this column we will explore how TV shows, musical artists, sports franchises and more can inform how an a cappella group operates.
The Unauthorized History of the Acapocalypse: Every a cappella group has a story. In this unique, eposidic, narrative feature we will trace the formation and first, tumultuous year in the history of the fictional Acapocalypse.
Dynamics: All kinds of people want to be involved in collegiate a cappella groups. But when it comes to running a student organization, the leadership needs to think about how new personalities will affect the group dynamics. In this column, we take a candid look at the stereotypes associated with various sorts of people, and explain what these people may contribute to a group. And we do so with web comics.
In addition to these new pieces of content, we're excited to have Andrea Aquino and Stephen Hutchings join our full-time staff as Regional Coordinators for the West Coast and Southeast, respectively.
Thanks so much for spending a part of your day with us. We're looking forward to a fantastic 2012 season, and sincerely hope for another five fantastic years ahead!