Last semester, Nazareth college Fermata Nowhere welcomed The A Cappella Blog to sit in on its very first auditions and early performances. We would like to thank them for their hospitality. Here is the resulting article.
On Tuesday, September 22, all of the students of Nazareth College, a small liberal arts school in Rochester, NY, receive an email from junior Rachael Motsenbocker. In just a few short words, the subject line of Motsenbocker's email spares her message from getting deposited in Trash folders, never to be read. What is this subject line, that not only gets students to read her words, but sets an unexpectedly large segment of the Naz population in motion? "New CO-ED A Cappella."
What Motsenbocker has to offer is something new to Nazareth—the school's very first mixed group. She came up with the idea in conversation with her co-founders, self-professed beat-boxer and psychology major Noah Wagoner and Danielle Crews, who doubles as the treasurer for Lambda, Naz's gay-straight alliance.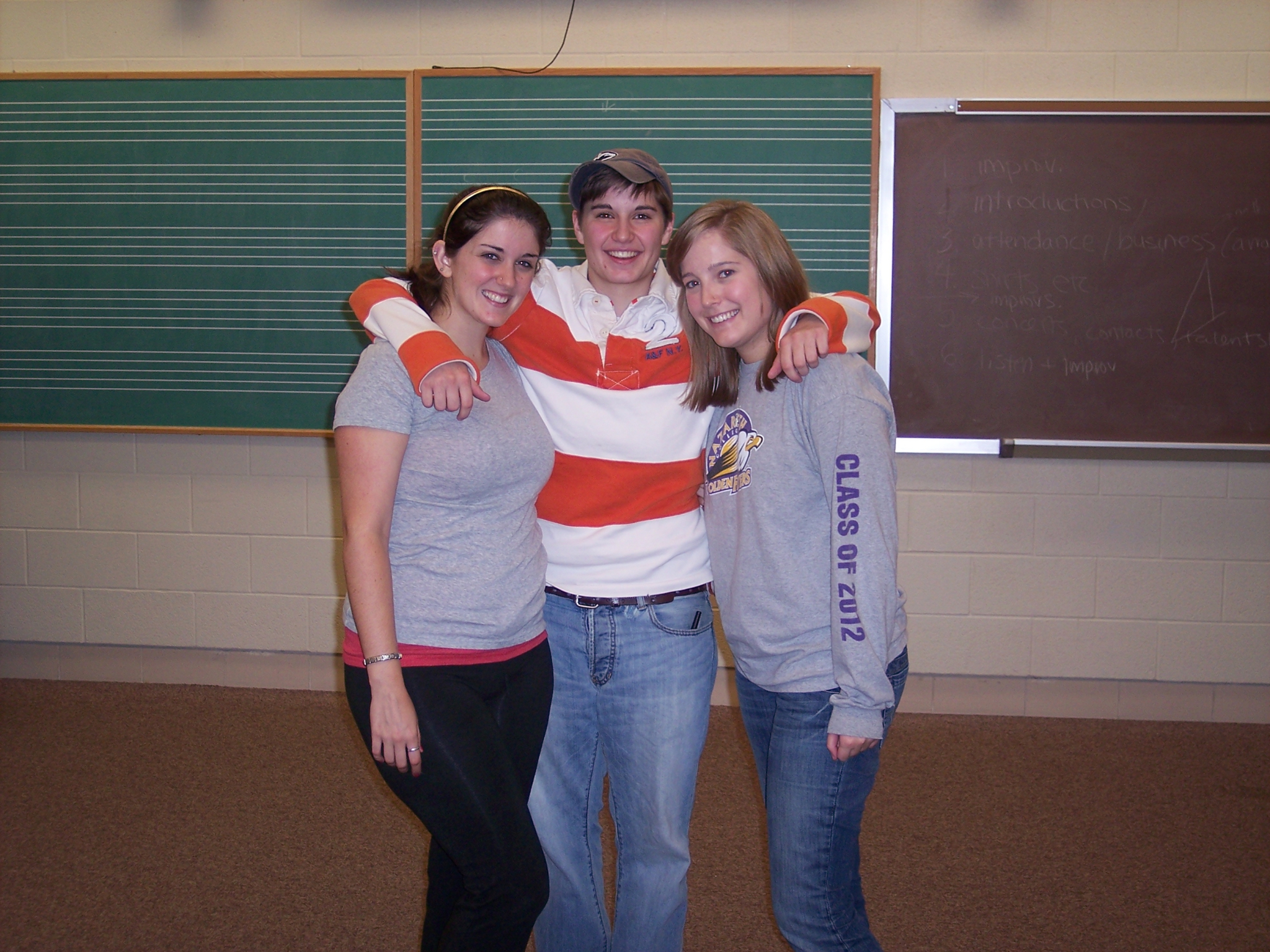 Before auditions can occur, the founders take at least one step toward decisively making the group their own. They scour the Internet in search of ideas for a group name. They want something musical and clever; something funny and memorable, but still somehow reflective of the group's identity.
After much searching, the answer becomes clear—to share a group name with another ensemble; one based on the west coast at Mt. San Antonio College to be exact. Motsenbocker, Crews and Wagoner would christen their group Fermata Nowhere. While they were, initially, unaware that they were sharing a name with the reigning international collegiate champions, this may be a piece of the group's destiny—stumbling upon excellence, unwittingly arriving at a group name already synonymous with success.
What's more, the name just fit. The group was, by the founders' unanimous admission, coming out of nowhere.
To be fair, Nazareth College is no stranger to the collegiate a cappella scene. For years, the all-male crew of One Big Hat entertained crowds of undergrads before falling dormant in recent times. Meanwhile, since taking shape in 1999, all-female Call4BackUp, has benefited each year from the school's 3:1 female-to-male student ratio, growing deeper and more talented with each incarnation. Motsenbocker, in fact, doubles as a current member of that group.
Beyond the groups that call Nazareth home, the school exists within the larger context of Rochester, NY, which has quietly become something of an a cappella hotbed. The University of Rochester offers up talented ensembles like The Midnight Ramblers, Yellowjackets, Vocal Point, and After hours; the Rochester Institute of technology serves up ICCA competitors like the Brick City Singers and Surround Sound. Elsewhere, there is a bevy of other groups from nearby institutions like Roberts Wesleyan College and Geneseo State.
In any event, Nazareth itself has a good music program, and students of high aspirations to be sure, giving plenty of reason for hope in starting a new musical group. With that being said, the school also has an undergraduate body with just a shave over 2,000 students. Between that small number and One Big Hat's cessation, a lot of questions remain about the viability of introducing another a cappella group to the college. The organizers have to wonder, will there be enough interested parties to fill a group?
The student body answers this question with an emphatic "yes!" While Motsenbocker had originally reserved space for two hours of auditions, enough parties express an interest in joining that she and the others needed to expand their try-outs several times over. The auditions turn into a two-day affair, the first day of which runs for over four hours. There are not only enough interested parties to fill a group, but enough so that the three founders can afford to be quite selective in whose talents will best contribute to building a performance troupe, as well as whose personalities will mesh best with their vision for an organization.
The first step for any Fermata Nowhere hopeful is to complete a simple questionnaire that covers a wide spectrum of topics, from the musical (what's your voice part?; do you play piano?) to the practical (what nights of the week are you free and for what times?) to the fun (what's your favorite color? What superpower would you like to have?). While the music is going to come first, Motsenbocker, Crews and Wagoner are also interested in getting to know each auditioning party as a person and as a performer, making small-talk with them as they enter the room, before handing them the floor to try out with their solos.
The solos that follow run the gamut from musical theatre numbers like "Lost in the Wilderness" and "Mama Who Bore Me" to old favorites like "The Rose" and "Summer Breeze," besides some more contemporary choices such as "To Make You Feel My Love." Between songs, the judges chat, forming the beginnings of "yes," "no," and "maybe" piles. Within days, the decisions are made and the group members are assembled and ready to start their journey together.
Fast forward to Saturday, November 7. After a month of preparation, Motsenbocker, Crews and Wagoner have their group prepared for their first public performance. The scene is the Joining Hearts and Hands Talent Show, an annual event put on by Nazareth's Community Service Floor. In 2008, the show raised sufficient funds to send a Kenyan student named Lillian to secondary school. The goal in 2009 is to raise enough money to allow Lillian to finish her fourth year of high school, hopefully paving the way for the young woman to achieve her dream of a career in medicine.
Fermata Nowhere does not look entirely cohesive for their first outing. They stand in t-shirts and jeans in a simple arc of roughly 20 people. Once the music starts, the group seems completely at home, fighting back any first-time-on-stage jitters in favor of the rush of showcasing their musical prowess in a strong rendering of Coldplay's "Viva La Vida."
And so, Fermata Nowhere's first outing is a success, but the group realizes that this is only paving the way for much bigger things. One month later, they take the stage again in a very different context, in front of what may prove to be a more discerning crowd.
On Sunday, December 6, Call4BackUp holds its end of semester show. RIT's all-male Eight Beat Measure is on hand to offer a taste of something different, but the group has welcomed Fermata Nowhere into the fold as well to show what they've got to a field of legitimate a cappella fans and peers in performance.
Fermata Nowhere more than lives up to the challenge. Gone are the mismatched t-shirts in favor of all-matching black tops, with scarves for the women. "Viva La Vida" is back, but features a new formation that results a truly unique visual display. The group, as a whole, sounds all the more confident for the extra practice between performances, with a very solid sound in the background. The group progresses onward to perform "Starlight" by Muse, featuring a memorable solo, and subtle, artful vocal percussion. The group looks and sounds miles ahead of where they started.
And so ends the first semester for one of the newest groups on the collegiate a cappella scene. After coming from out of nowhere, it seems to safe to say that the group is headed for big things.