The a cappella world is full of cool people, but those individual identities are so often lost in the broader scheme of a cappella groups or institutions. In this 10-part feature we are listing 100 of the coolest people in a cappella.
I based this list on many and varied rationale including overall impact on a cappella and the degree to which people have innovated. There's a "lifetime achievement" element of it, but also a healthy dose of "what have you done for me lately?" This isn't just about the greatest a cappella performers (though that certainly plays a role) but equally, if not more so about how much a person has given to the a cappella world, and how cool those contributions have been.
On a side note, if you get too bent out of shape about where someone ranks, or if someone's omitted, please also keep in mind that you have a guy who voluntarily writes a blog about a cappella evaluating how cool 100 people are—there is some dissonance up in here.
Did we forget some people? Almost certainly. In brainstorming for this countdown, the initial list ran well over 150 names long. Tough decisions had to be made, and besides that, there's little doubt that we forgot some very cool people. Please feel free to let us hear about it and give your favorite folks their just desserts in the comments section, on Facebook, or on Twitter.
As much as it pains us, and surely invalidates the list to an extent, we have opted to not to include anyone on the regular A Cappella Blog staff on this list.
Here's the list so far:
100. Heather Newkirk
99. John Baunach
98. DW Routte
97. Laura Long
96. Angela Ugolini
95. Marc Silverberg
94. Warren Bloom
93. Kari Francis
92. Ben Spalding
91. Corey Slutsky
90. Nate Tao
89. Tom Keyes
88. Mark Torres
87. Connaitre Miller
86. Meredith Strang
85. Selame Scarlett
84. Emily Flanders
83. Matt Caruso
82. Seth Johnson
81. Glynn Rankin and Michael Dyck
80. Sarah Vela
79. Katie Gillis
78. Noah Berg
77. Dave Longo
76. Danielle Withers
75. Oluwasegun Oluwadele
74. Therry Thomas
73. Sara Yood
72. Tom Anderson
71. Josh Chopak
With out further ado, we present 70-61.
70. Roger Thomas In 1999, Thomas co-founded Naturally 7. Over a decade later, some of the players have changed, but Thomas remains, standing tall as the musical director, arranger, and a very active voice on stage for the group. Naturally 7 has transcended a cappella to embrace the fusion sub-genre of "vocal play"—in which the group doesn't just sing without instruments, but as instruments, spotlighting a full brass section, electric guitar and more. The group has performed internationally now, with highlights including live performances at the TED conference and SoJam, accompanying Michael Buble on The Today Show and singing in Madison Square Garden.
69. Aaron Sperber Most a cappella fans didn't give The Yellow Jackets—an all-male collegiate a cappella group from western New York—much of a chance at making an impact on season three of The Sing-Off. The boys from Rochester surprised plenty of folks, though, surviving until the mid-point of the season and elevating the group's national reputation by a tremendous degree. One of the driving forces behind the group's success was the one and only Sperber, a tenor with one of the cleanest sets of pipes you're likely to hear anywhere in the world. Beyond offering great solos, Sperber's unabashed infatuation with Sara Bareilles lent the group an extra dose of much-needed personality to help differentiate them from the rest of the pack. Prior to The Sing-Off, Sperber and company traveled to Kenya to work with school children; after their run on NBC, the group has continued to raise money for these children and their small town. Furthermore, Sperber, specifically, has taken the mission of music education and spreading a cappella even further, launching The Buzz, an a cappella group for young people in the Rochester City School District. And what's Sperber doing on the side now? Oh, just singing with The Exchange, alongside Christopher Diaz, Alfredo Austin, and some fellow YJ alums.
68. Mark Joseph Berklee College of Music Pitch Slapped is on a short list of ensembles that can legitimately claim to be the coolest collegiate a cappella group in the world. Among a cast of insanely talented musicians that include Sing-Off luminaries Hannah Juliano and Ingrid Andress, Joseph has more than held his own as a sensational vocal talent with the stage presence to capture the imagination of audiences far and wide. Whether he was sharing the solo on "Love on Top" or taking the lead all for himself on "Breakeven," Joseph emerged as a true star singing at SoJam 2011, the 2012 ICHSA Finals, and many, many points in between.
67. Myke Charles No, Urban Method was not my favorite group from The Sing-Off season three, but I absolutely love what they did for the a cappella form in the eyes and ears of the general populace. Sure, plenty of contemporary groups have dissipated the misconceptions that a cappella groups = glee clubs, or that all a cappella is necessariliy barbershop. But Urban Method took things a step further, establishing the hip hop sub genre within a cappella for an audience of over a million viewers each week on NBC last fall. The heart of the group's identity rested on the shoulders of Charles, a bona fide rap artist who brought his A-game to the vocal group to make innovative things happen.
66. Johanna Vinson Off the top of your head, think of the top five all-female a cappella groups in the US over the last ten years. While I can't guarantee it, I'm guessing there's a pretty good chance Delilah, Musae, and Divisi all made your list (or if one of them didn't, the group at least landed in the honorable mentions). The common thread between these top flight women's groups? A rare, exceptional female bass—the one and only Vinson. As a part of these ensembles, Vinson has appeared on The Sing-Off, competed at the ICCA Finals, toured internationally, and much more. Her unique skill set means she has every chance of remaining a major figure in female a cappella for years to come.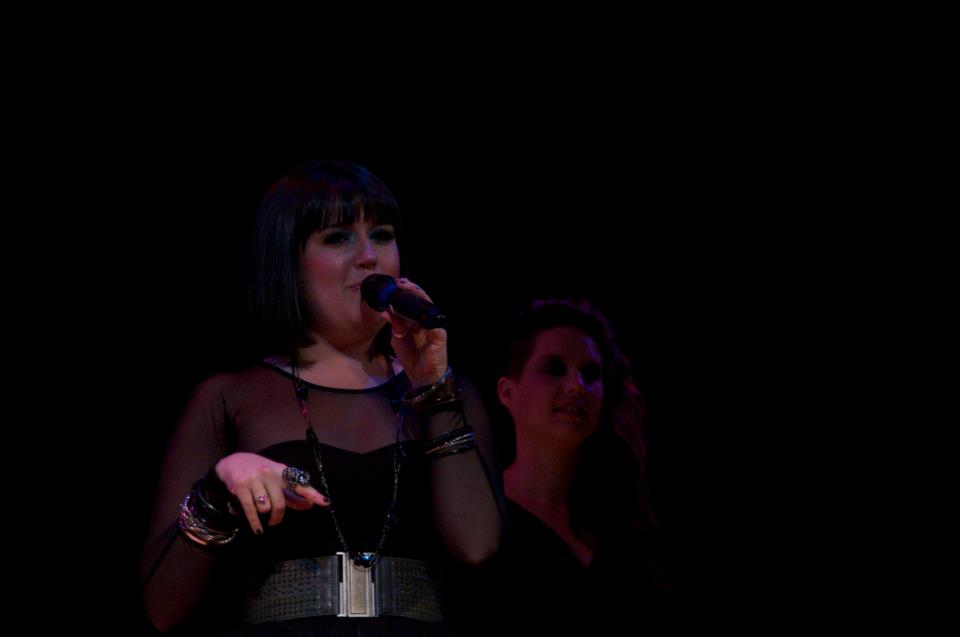 65. Sean Patrick Riley Riley has worn many hats, including that of CASA Ambasssador for Missouri, ICCA judge, a cappella group consultant, alum of the all-male St. Louis University Bare Naked Statues, and, most recently Communication Coordinator for Chicago's Acappellafest. The ubiquitous Riley is a consistent presence at major a cappella events an excellent a cappella resource, particularly for groups in the Midwest.
64. Joan Hare In 1963, Joan Hare gave birth to Bill Hare. In 1984, she bought Astral Sounds Recording with Bill; in the mid-1990s, Astral Sounds closed and gave way to Bill Hare Productions, through which the younger Hare went a long way toward revolutionizing recorded a cappella. Mrs. Hare is not only the mother of an important figure in a cappella, but also a remarkable person in the a cappella community herself—an established presence in the a cappella online community, and a consistent face in the crowd at major a cappella events and shows, particularly on the west coast. In 2011, CASA honored Hare with the A Cappella Community Award (ACA) for Favorite A Cappella Fan—I don't know that any award could be more appropriate for a woman who has advanced the form, not as a performer, but as someone who earnestly and fully celebrates and shares its wonders.
63. Kenley Flowers As if The AcaBelles hadn't accomplished enough with two trips to the ICCA Finals and a barn burning performance at SoJam 2011, The 'Belles went ahead and set the world on fire one more time this past spring with an electrifying set that got them within one place of advancing out of the ICCA South Semifinals, and one place of advancing out of the ICCA Wildcard Round to reach Finals again. As the group's director, Flowers led the charge, not only running the show behind the scenes but turning in an emotionally stunning solo on "Stay"—the perfect soft buffer between power songs in the group's set. Away from The 'Belles, Flowers also served in an advisory capacity for ICHSA Finalists, all-female Winter Park High School Take 7. Though Flowers' undergraduate career is behind her, one has to suspect the aca-world hasn't heard the last of her.
62. Mike Jankowski To say that Jankowski has given back to the a cappella community after his time with The Buffalo Chips is a pretty big understatement. Jankowski founded A Cappella Hosting—a service dedicated to providing web hosting for a cappella groups. Since then, Jankowski has taken a leadership role in A Cappella Productions, providing services for a cappella recording, live events and more. Who knows what Jankowski has in store for the a cappella world next—but you can bet your bottom dollar that it's going to be pretty cool.
61. Jeremy Lister As a Nashville vocalist, Lister had recorded an EP for Warner Bros. years before he appeared on The Sing-Off. And while he has plenty to be proud of for his solo career, there's little question that his work as a tenor and front man for Street Corner Symphony has elevated his career to another level. SCS, unlike so many groups formed for the purpose of a run on TV, gelled quickly, thrived in the spotlight, and has kept on succeeding long after their time on the show came to an end—touring, opening for Ben Folds at shows across the country, and recording UnPractice Makes Perfect, a highly regarded debut album. The future is bright for the a cappella group with a mix of southern flavor and pop/rock sensibilities. Keep an eye on them for the years ahead.