The a cappella world is full of cool people, but those individual identities are so often lost in the broader scheme of a cappella groups or institutions. In this 10-part feature we are listing 100 of the coolest people in a cappella.
I based this list on many and varied rationale including overall impact on a cappella and the degree to which people have innovated. There's a "lifetime achievement" element of it, but also a healthy dose of "what have you done for me lately?" This isn't just about the greatest a cappella performers (though that certainly plays a role) but equally, if not more so about how much a person has given to the a cappella world, and how cool those contributions have been.
On a side note, if you get too bent out of shape about where someone ranks, or if someone's omitted, please also keep in mind that you have a guy who voluntarily writes a blog about a cappella evaluating how cool 100 people are—there is some dissonance up in here.
Did we forget some people? Almost certainly. In brainstorming for this countdown, the initial list ran well over 150 names long. Tough decisions had to be made, and besides that, there's little doubt that we forgot some very cool people. Please feel free to let us hear about it and give your favorite folks their just desserts in the comments section, on Facebook, or on Twitter.
As much as it pains us, and surely invalidates the list to an extent, we have opted to not to include anyone on the regular A Cappella Blog staff on this list.
Here's the list so far:
100. Heather Newkirk
99. John Baunach
98. DW Routte
97. Laura Long
96. Angela Ugolini
95. Marc Silverberg
94. Warren Bloom
93. Kari Francis
92. Ben Spalding
91. Corey Slutsky
90. Nate Tao
89. Tom Keyes
88. Mark Torres
87. Connaitre Miller
86. Meredith Strang
85. Selame Scarlett
84. Emily Flanders
83. Matt Caruso
82. Seth Johnson
81. Glynn Rankin and Michael Dyck
80. Sarah Vela
79. Katie Gillis
78. Noah Berg
77. Dave Longo
76. Danielle Withers
75. Oluwasegun Oluwadele
74. Therry Thomas
73. Sara Yood
72. Tom Anderson
71. Josh Chopak
70. Roger Thomas
69. Aaron Sperber
68. Mark Joseph
67. Myke Charles
66. Johanna Vinson
65. Sean Patrick Riley
64. Joan Hare
63.Kenley Flowers
62. Mike Jankowski
61. Jeremy Lister
60. David Pinto
59. Scott Henderson
58. McKay Crockett
57. Kenton Chen
56. Meg Alexander
55. Michael Marcus
54. Mike Tompkins
53. Schaeffer Gray
52. Stephen Harrison
51. Dave Sperandio
50. Florian Stadtler
49. Mitch Grassi
48. Allan Webb
47. Jake Hunsaker
46. Jim Diego
45. Thomas King
44. Jonathan Minkoff
43. Mark Hines
42. Elizabeth Banks
41. Lior Kalfo
40. Kirstie Maldonado
39. Chris Crawford
38. Sam Tsui
37. Brianne Holland
36. Christopher Given Harrison
35. Alfredo Austin
34. John Neal
33. Amy Whitcomb
32. Ben Bram
31. Nick Girard
30. Ingrid Michaelson
29. Rob Dietz
28. Andrea Poole
27. Kevin Olusola
26. Mickey Rapkin
25. Michael Odokara-Okigbo
24. Courtney Jensen
23. Ingrid Andress
22. Lo Barreiro
21. Ben Stevens
20. Avi Kaplan
19. Jerry Lawson
18. Randy Stine
17. Ed Boyer
16. Bobby McFerrin
15. Julia Hoffman
14. Shawn Stockman
13. David Rabizadeh
12. Bellatrix
11. Dave Brown
With out further ado, we present 10-1.
10. Sara Bareilles As an undergrad at UCLA, Bareilles sang with Awaken A Cappella. The group landed a track on the Best of Collegiate A Cappella, an original composition written and arranged by Bareilles, to which she sang the solo. In January 2004, she would release her first solo album, Careful Confessions, on which "Gravity" appeared as the opening track. Subsequently, she would sign with Epic Records, and "Gravity" would get play once more on her 2007 album Little Voice. This time, the song really stuck with a national audience, the follow up single to "Love Song" and "Bottle It Up" that would come full circle as a favorite cover song collegiate a cappella across the country. Indeed, some of Bareilles' magic in the a cappella world is her place as a role model—a singer who truly made good rising from the ranks of a cappella to legit recording artist who has seen a song hit #1 on the Billboard charts and who has earned Grammy nominations. Moreover, Bareilles has done nothing to shy from a cappella roots, serving as a popular personality on the judging panel of season three of The Sing-Off, and looking to have had the time of her life performing a cappella again, joining Urban Method to take the solo on her own "Gonna Get Over You" on the season finale. As an artist, arguably as a person, Bareilles is who so many a cappella folk long to be. And that's pretty cool.
9. Scott Hoying When most of us were 19 years old, we were just figuring out our way in our early years of college, or working our way through jobs we didn't love to just to make ends meet. What was Hoying doing at age 19? Oh, you know, just fronting the coolest a cappella group in the world in front of an audience of over a million viewers on a weekly basis. So where did the most prominent face of Pentatonix come from? Where did he learn his a cappella chops? Most of us know that he, Kirstie Maldonado and Mitch Grassi were high school friends and partners in music. Less well-known is that in the fall of 2010, Hoying was a freshman at USC and happened to be roommates with Oluwasegun Oluwadele (2012 ICCA Finals Outstanding Soloist and Champion, and #75 on this very countdown), and that the two of them both auditioned for and sang with The SoCal VoCals. Few and far between are the vocalists who can leave the SoCal VoCals and trade up in the a cappella world, but Hoying just may have done it, rejoining Maldonado and Grassi, and bringing in an elite rhythm section that they found on YouTube to assemble an unstoppable force for Sing-Off season three. Since their run on the show, Pentatonix has remained active, releasing an EP, touring the country, and posting new videos to YouTube to stay on the cutting edge and fresh on the mind's of their fan base. The next stop for Hoying & co.? SoJam 2012. I bought my tickets early and like the rest of the audience, I can't wait to hear the show.
8. Christopher Diaz In his undergrad years at Florida State University, Diaz led co-ed All-Night Yahtzee to not one, not two, but three consecutive appearances at the ICCA Finals (not to mention that Diaz took home Outstanding Soloist honors at Finals in back to back years during that run). Since college, Diaz joined Dave Brown in founding Mouth Off, a tremendously popular a cappella podcast. He's judged ICCA Finals, served as the emcee for the professional showcase at SoJam, worked behind the scenes as an arranger and coach at The Sing-Off, and performed in numerous live engagements not only in the US, but internationally, with The Exchange--a group under which he's joined with Alfredo Austin and alumni of The Sing-Off's Yellow Jackets. In short, if there's something cool to do in a cappella, there's a pretty good chance Diaz has been there, done that, and won a few awards while he was at it.
7. Hannah Juliano The first time I heard Juliano, I was listening to a Mouth Off podcast along my annual drive from Baltimore to New York City for the ICCA Finals. As always, the show included clips of some of the best a cappella around, and they featured a clip of Juliano's solo on "Halo," leading her group, Berklee College of Music Pitch Slapped out of the ICCA South Semifinals for the first time. The next night, I'd catch the live act at Lincoln Center and recall to this day how remarkable that solo really was. Pitch Slapped took home second place that night, but that's far from the last we would all hear of the Boston-based crew, as they appeared on The Sing-Off the following autumn, won the ICCA Championship the next spring, then rounded out 2011 by winning the SoJam college competition. Juliano was not only a star soloist and director for Pitch Slapped, but returned to The Sing-Off in 2011 as a key member of Delilah, and split time between that super female group and another—Musae. For all of her musical pedigree, though, I'd like to bookend this particular write up with another personal anecdote. The first time I met Juliano, she introduced herself to me and gave me a hug to thank me for what I'd written about her work on this blog. There's a lot of humility and that moment, and it tells you what you need to know about Juliano as one of the coolest people I've met in the a cappella world or otherwise.
6. Bill Hare When it comes to recorded a cappella, there's Hare, and there's everyone else. A track recorded in his studio has made it onto every single Best of Collegiate A Cappella CD—he's had 63 BOCA tracks in all, and many more Contemporary A Cappella Recording Award nominations. All of this from a guy who professed himself to be an a cappella skeptic when he was first asked to work with groups from Stanford. Since he got started he's worked with Sing-Off groups like Committed, Nota, Street Corner Symphony, and The Backbeats, in addition to high profile collegiate acts ranging from Oxford Out of the Blue to Rutgers Casual Harmony to Brigham Young University Noteworthy to The Binghamton Crosbys to The Yale Whiffenpoofs to University of Oregon Divisi and… well, the list goes on and on. Outside the studio, Hare has worked backstage on The Sing-Off, judged the ICCA Finals, and held multiple positions on the board of directors at the Contemporary A Cappella Society. All that and, you know, he won a Grammy.
5. Ben Folds Folds traveled a long and unlikely road to become a major figure in a cappella. He's been a pretty significant presence on the indie rock scene since the mid-1990s, developing a strong cult following, largely among a college demographic that appreciates his piano-driven melodies, foul-mouthed lyrics, and ability to tap into a vulnerable side of himself when singing about topics like real love or his kids. This following led to slews of collegiate a cappella covers of Folds' work. While most recording artists who have achieved such a status remain oblivious or shrug their shoulders and say "that's nice" Folds became a galvanizing force in the a cappella community, launching the University A Cappella project in which he called on groups to submit covers of their Folds songs, recorded with them, and released an album. The project was not only a dream come true for all the groups that got to collaborate with Folds, but a big stepping stone in raising the public consciousness about a cappella. Based on this project, Folds was tapped to sit on the on-air judging panel for The Sing-Off. While he was one of just three voices at the table each season of the show, most viewers seem to recall Folds as one of the programs mostly truly defining personalities—sharp, critical, and musically expert, but all the while, funny, kind, and unmistakably likable. Moreover, he went the extra mile based upon his role with the show, subsequently taking several different a cappella groups on tour with him as his opening acts. While The Sing-Off's run has apparently come to a close, there seems little doubt Folds will remain a vital part of our community.
4. Lisa Forkish Over the last couple of years, I've played pretty fast-and-loose with the term "female a cappella revolution." What can I say? The first year we launched our little blog, BYU Noteworthy stormed the stage at Lincoln Center and won an ICCA championship and two years later showed upon NBC as part of The Sing-Off. Besides that, you've got groups like Delilah and Musae touring the US, The Boxettes tearing things up in the UK, The AcaBelles pushing the envelope all the way to two ICCA Finals appearances in the last five years, GQ winning SingStrong and finishing second at Harmony Sweepstakes Nationals inside their first full year as a unit, and folks like Lo Barreiro leading panel discussions on how all-female a cappella has fundamentally changed at SoJam. But this whole revolution started far earlier with a group of young women who refused to back down and pushed every boundary available to them in 2005. I'm talking about University of Oregon Divisi, and more specifically their run to the ICCA Finals—the year most folks argue they should have won an ICCA championship (a controversial decision significant enough to lead to an overhaul in how the Finals are adjudicated). Forkish was among the leaders of that group—an arranger, a key voice, and an influence who championed the inclusion of Usher's "Yeah" in their near-championship set. As such, Forkish undoubtedly commands a place on the modern day Mount Rushmore of all-female a cappella influences. But she wasn't done in spring 2005, nor in the 2005-2006 year chronicled in Mickey Rapkin's Pitch Perfect. Forkish made an unlikely return to high stakes competitive scholastic a cappella in 2012, this time as the faculty director for Oakland School for the Arts Vocal Rush. The co-ed group took second in its regional semifinal, then earned a wild card spot in the ICHSA Finals. At this point, the crew underwent a radical transformation, leaving the male members at home to unleash an all-female subsection of the group that may well have channeled the spirit of Divisi (if sporting a bit less ferocity, and a bit more groove) and took home an international championship. Vindication, thy name is Forkish—and we give her all the props in the world for one of contemporary a cappella's coolest stories.
3. Amanda Newman During her undergraduate career, Amanda Newman served as the business manager for her a cappella group, University of Illinois No Strings Attached. With this pedigree, it may seem only natural she would transition to one of the leading figures in the business of a cappella, the executive director of Varsity Vocals who oversees the International Championship of Collegiate A Cappella, The International Championship of High School A Cappella, The Best of Collegiate A Cappella compilation, and The Best of High School A Cappella compilation. For those keeping score at home, that's well over 30 live shows each spring, two of online wild card competitions, and two of the most widely listened two a cappella CDs in the world. Furthermore, that's roughly 200 groups; over 2,000 young singers ultimately looking up to Newman. Needless to say, the numbers were far smaller when Newman started working as a regional producer for ICCA, and her leadership is no small part responsible for the way in which the tournaments have grown and thrived over the last decade. Furthermore, Newman has fielded calls and emails from documentarians, reporters, and authors, and brokered deals with the likes of MTV and the makers of the Pitch Perfect film. With Newman as its shepherd, there's little doubt scholastic a cappella will continue to thrive for a very long time.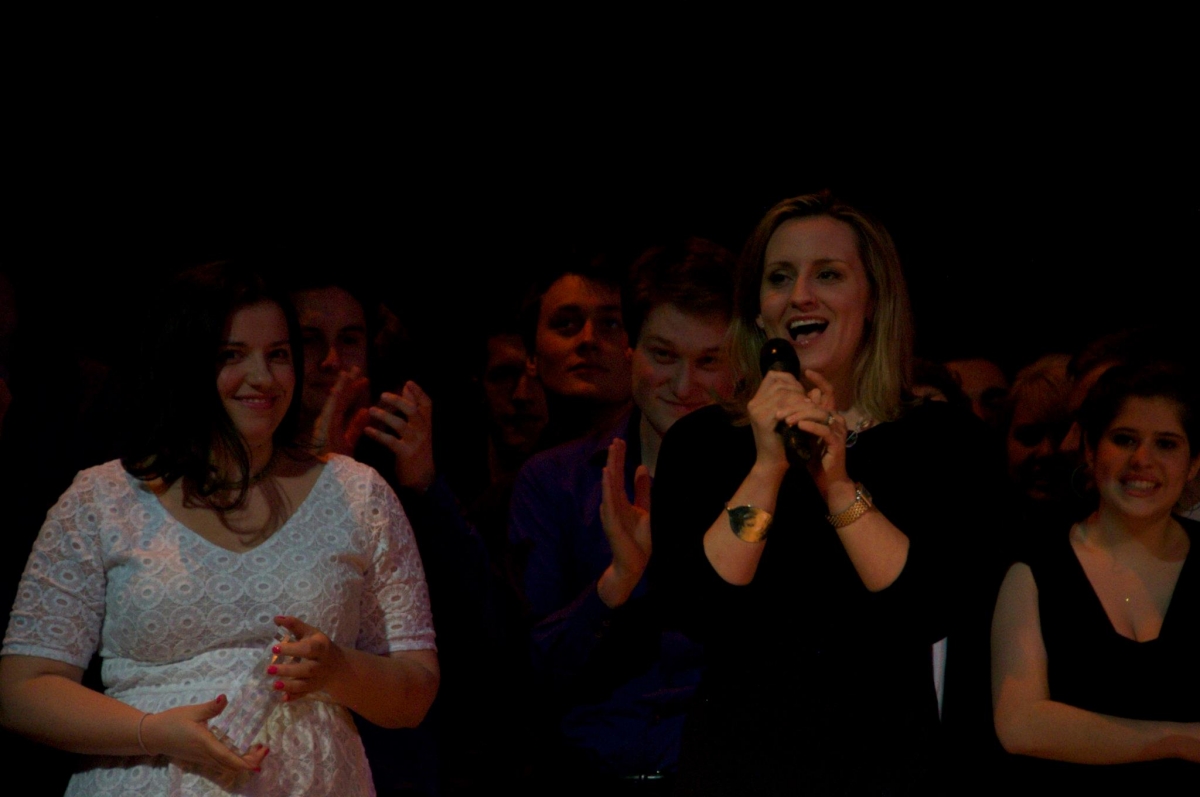 2. Deke Sharon For so many of us, college is a time for idealism and ambition. We get invested in causes, experiment with new ideas, and find ourselves as human beings. And Deke Sharon? Well, he directed a little a cappella group called The Beelzebubs, and, from his dorm room, founded The Contemporary A Cappella Society. What can I say? Some people just happen to do really big things. Indeed, since leaving Tufts, Sharon fostered continued growth for CASA, developing its outreach programs and later starting up the Contemporary A Cappella League. All the while, he has sung with The House Jacks, an all-male professional group that famously did voice work for The Sing-Off and Monday Night Football concurrently in fall 2011, in addition to appearing in numerous ad campaigns and media outlets over their 20-plus years as an ensemble. Speaking of The Sing-Off, Sharon also had a key role behind the scenes, directing and arranging for them; a similar role to that which he's played more recently for the Pitch Perfect movie. As a fledgling writer on the topic of a cappella, I wrote to Sharon multiple times, and was always impressed with his willingness to not just reply, but reply thoroughly and in short order. It may be this approachability and selflessness that have made him so well-liked and well-trusted in the a cappella community. Regardless, whether he's directing traffic behind the scenes at a show, corralling an audience on stage, or posting an incisive blog entry over at CASA, one unifying truth remains—in the a cappella world, when Deke Sharon speaks, people listen.
1. Peter Hollens In 1999, Hollens co-founded On the Rocks, the first a cappella group at The University of Oregon. By the time he graduated, the group had placed at ICCA Finals twice and asserted itself as one of the preeminent collegiate aca-powers of the early 2000s. The group would go on to even bigger things years later when Hollens rejoined the group not as a singer, but rather recording and producing the group in action for their absolutely iconic cover of Lady Gaga's "Bad Romance"—you know, one of the most truly iconic viral videos ever in a cappella, and the driving force behind the trend of all-male groups covering Lady Gaga for years to come. On the Rocks would ride this wildly popular video all the way to a spot on season two of The Sing-Off, where Hollens lent his experience and a sensational tenor to the college guys to help boost the crew into the late stages of the season. Since appearing on the show, Hollens resumed his work as a producer, arranger and vocal coach for groups across the country and, in earnest launched his career as a one-man a cappella band, recording truly remarkable multi-track takes on songs like "Moves Like Jagger," "I Won't Give Up," "Firework," and "Pray" (the last of which was a collaboration with fellow Sing-Off alums including Therry Thomas and Courtney Jensen to raise money in support of earthquake relief in Japan). On top of that, Hollens has a budding career as a satirist/tribute artist with impressive spins off of Rick Perry, Skyrim and Game of Thrones. I met Hollens after he finished judging the ICCA Finals this past spring and was profoundly impressed with his poise, and unassuming nature. He is a truly incredible vocalist, a remarkable producer, and an artist with a real conscience. As such, I deem him to be the coolest personality in a cappella today.
Thanks for sticking with us through our countdown of 100 of the coolest people in a cappella. We've prefaced each segment with disclaimers that the list was very subjective, that with just 100 spots, we couldn't include everyone whom we wanted to, and that surely we had forgotten some very worthy names. With that said, let us close with the "people Mike was foolish enough to forget/honorable mentions"—the people who just missed the list, whom I forgot earlier, and/or whom readers reminded us of as we went along (rest assured: face palms abounded), whom certainly deserved recognition. In no particular order: Amanda Aldag, Carl Taylor, Kimberly Raschka Sailor, Tat Tong, Jamal Moore, Timothy Jones, Dave Bernstein, Ben Lieberman, Mark Gregory, Mackenzie Cohn, Nathan Altimari, Dithu Rajaraman, Randi Stanley, Dave Trendler, Saqib Mikey Yasin, Lucy Jackson, Valerie Dowdle, Sebastian Wolff, Anna Kendrick, Virginia DeMoss, Blair Baldwin, Lindsay Howerton, Holli Matze, Nathan Altimari, Nick Lachey, Ed Helms, Jason Unger, Ben See, and Ted Trembinski.