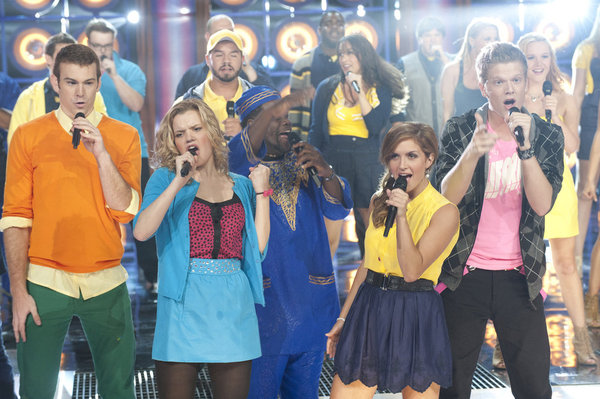 The Sing-Off will begin its super-sized, 11-episode season this Monday. We have plenty of new sounds coming our way and more than a few familiar voices. In 2010, over 8 million people tuned in to watch a cappella on national TV. But what's in store this year? Who will come out on top? Does bigger really mean better?
The ACB has you covered. We will review each and every episode of The Sing-Off. To get you started, here's a brief preview of the season ahead. In addition, you can check out 15-second video previews of many of the groups on my Tout page.
Please note—I have not attended any of The Sing-Off tapings, nor have I heard any spoilers. What comes below is purely my response to (and at times summarization of) what's available on the Internet. For the purposes of previewing the series, I am consciously overlooking the fact that a goodly portion of the season has already been taped, and treating it in the future tense.
What's New
Nicole is out, Sara is in. Since last year, Pussycat Doll Nicole Scherzinger accepted a judging gig on The X-Factor. But just who would fill the void of feminine energy and positivity on the judging panel? While the positivity part has yet to be determined for sure, we do know that singer songwriter and collegiate a cappella alumna Sara Bareilles will join the cast.
Gut Reaction: Despite the nice things that a lot of people have said about Nicole, she always struck me as airheaded and ignorant about a cappella—almost to the point of amusement, to be fair. Nonetheless, Sara should represent a major upgrade.
16 groups. As one would expect, a longer season will also mark the largest collection of talent yet, with no fewer than 16 groups in the mix.
Gut Reaction: It's great that so many musicians will get their shots at the mainstream. There are over 2,000 a cappella groups active today so, at least in theory, spreading the field to 16 should not present too much of a risk of diluting the talent pool.
Split groupings. Like previous seasons, groups will perform in separate elimination brackets in the early-going. The rumored structure has eight groups performing on the first night—September 19, then other eight groups performing on the second episode—September 26. The groupings will purportedly remain separate, with eliminations occurring each week, until we arrive at a top ten, at which point the groups will consolidate.
Gut Reaction: I'm glad the producers aren't trying to cram 16 groups into two hours, but the bracketing always rings a little false with me, as there will inevitably be some inequities (for example, if the three weakest groups are in the same bracket, some of them will get to hang around longer than they should in the earliest weeks; if the six strongest groups are in the opposite bracket, someone will get booted too soon).
Group Breakdown
Given the bracket system and, to be frank, the fact that I haven't seen much of a number of these groups, picking favorites is a real challenge. With that said, I've broken the groups into three categories—The Elite (those I expect to arrive in the top five), The Middle of the Pack (groups I expect to be around for a bit, but that probably won't make it to the late stages), and Catch Them While You Can (groups I don't see making it out of the opening weeks).
The Elite
Sonos If you haven't heard Sonos yet, give the video below a listen. This pro group out of LA is one of those rare ensembles that, even in this day of relatively mainstream a cappella, can still make listeners stop and say, "Wait, he's making that sound with his mouth?" A combination of pure musicality and the benefit of performing together for five years should take this group deep into season three, and they are my early picks to win it all.
The Collective My take on Street Corner Symphony last year was that, when they made contact with the ball, they knocked it out of the park; more often, they swung and missed. Nonetheless, front man Jeremy Lister knew what he was doing when it came to delivering what the judges were looking for and gathering enough support from the viewing audience to arrive as finalists of season two. Now, Lister has assembled a crew of professional musicians out of Nashville, and though this group will not be the same as SCS (it's a mixed group for starters) I expect a similar sound, approach, and musical caliber, which should all serve them well.
Vocal Point Few and far between are the collegiate a cappella groups who can say they have competed at the International Championship of Collegiate A Cappella (ICCA) Finals. Fewer yet are the groups who can say they've won it all. The boys from Brigham Young not only won it all in 2005, but placed second in 2011 and qualified for Finals twice more in the last decade. This is a group with a history of excellence, a serious bass sound, and some well-deserved swagger that should take up the Beelzebubs/On the Rocks mantle as an elite all-male collegiate group.
The North Shore The men of The North Shore will likely fill the MAXX Factor/Jerry Lawson and the Talk of the Town niche for this year. They're a group of mature gentlemen and, to give you an idea of group longevity, they won the Harmony Sweepstakes back in 1991. Like the elderstatemen/women groups to precede them, you can expect The North Shore to bring rock solid tuning and fundamentals, paired with the confidence that comes with experience. It's tough to bet against a group like that.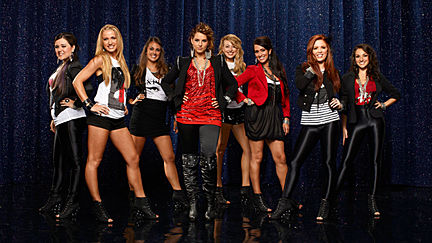 Delilah Pop quiz—how many all-female groups have competed on The Sing-Off to date? Give up? Only two. How many appeared last year? Zero. How many reached the top three? That's right—zero. I don't bring up any of these points to disparage to Delilah, but rather to celebrate the fact that the estrogen-powered cavalry may have arrived in Los Angeles. Delilah includes an insane collection of female talent from former Sing-Off groups including Noteworthy, Voices of Lee, Pitch Slapped, and Eleventh Hour. And from where did they pick up the two women who are actually new to The Sing-Off. Oh, only Divisi—the preeminent all-female collegiate group that's (arguably) second only to Noteworthy. Though I worry about the seemingly "thrown-together" nature of the group, the volume of talent, competition experience, and Sing-Off-specific experience here should carry the ladies deep into the competition.
The Middle of the Pack
The Yellow Jackets The University of Rochester's oldest all-male a cappella group snagged a taste of the national spotlight last year with their viral video cover of Taylor Swift's "You Belong With Me" (see below). The guys are talented, funny, and genuinely likeable. Their biggest obstacle? Sharing TV time with the stronger all-male force of Vocal Point. Comparisons aren't entirely fair, and if the group is lucky they'll end up in the opposite bracket. Nonetheless, it's hard to see them lasting long once they have to perform in juxtaposition with the boys from Brigham Young.
Fannin Family This is where musical talent meets the public's love for a feel-good story. The Fannin Family—a collection of brothers and sisters who have made music together for, literally, their entire lives—will get their slice of the spotlight this fall. How far, though, can folksy, familial charm carry a group that typically performs with instruments and that errs toward a classical sound? I want to like the Fannins and expect them to do well, but don't foresee them reaching the late stages of the season.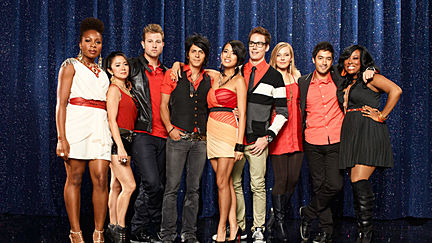 Kinfolk 9 This LA-based pro group is purported to have some serious musical chops, but I remain skeptical of groups with less than a year of experience together, and without serious competitive a cappella experience to bolster them.
The Cat's Pajamas These five guys have sung together professionally for six years, and are accustomed to live performance—factors that should play heavily in their favor this season. The real question is: just how good are they? The guys have made their name singing aboard cruise ships. This is their opportunity prove themselves on solid ground, or to find a glass ceiling awaits them at sea level. This is truly a wild card act that I could see going either way.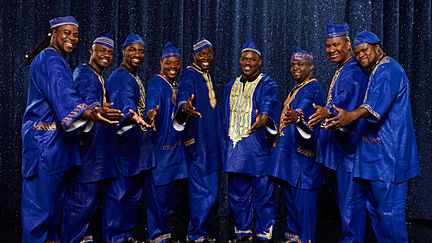 The Messiah's Men This group of African men know how to lay down a beautiful a melody. But how will their traditional, ethnic sound translate to mainstream America? Were this purely a talent competition, I'd be tempted to bump the guys up into the elite pack, but on NBC reality TV, I see them having a good run, but falling short of the final episodes.
Afro-Blue The men and women of Afro-Blue have been singing together for a number of years. Their self-described jazz-pop sound should be easy on the ears, while allowing them to show off some classical-style chops. I expect this group to be a lot of fun, but do feel as though groups with decided jazz influence have but a certain shelf life on a show like The Sing-Off.
Catch Them While You Can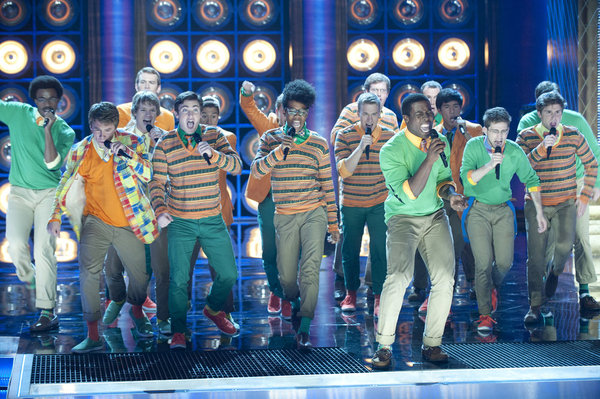 The Dartmouth Aires Similar to The Yellow Jackets, The Aires will carry the burden of enduring comparisons to Vocal Point. Make no mistake—the guys have serious musical chops and very well might surprise us. They're a large group, though, which can make it harder to keep the ensemble tight and together on stage, and their resume highlights revolve around recorded a cappella—a very different beast from performing on the The Sing-Off stage.
The Deltones I saw this group perform back in 2004, and they had a cool, distinctive sound. I'm excited at the opportunity to hear them again, and there's certainly a chance the co-ed group has evolved a great deal in the interim. Nonetheless, from what I've been able to gather, this remains a solid collegiate group—nothing to sneeze at, but also not a group that will go too far at this level of competition.
Pentatonix This will be an interesting group to hear—made up of three high school friends and two partners they found via YouTube. I have to question how far they'll go due to a lack of experience performing together, paired with the lack of focus in their repertoire that early press materials suggest.
Soul'd Out Don't get me wrong--Soul'd Out is among the elite high school groups in the world, but I fundamentally question the ability of any high school group to hang with top-flight collegiate and professional crews. I love that this group of teenagers is going to get some exposure on network TV—I just don't expect them to make it past their second episode.
Urban Method Once again, I need to play the cards of inexperience with a cappella, and inexperience singing together. Urban Method boasts some slick sound quality and an ability to mix it up on raps. I just don't see them delivering at the level of the show's heavyweights for a sustained period of time.
If you haven't seen it yet, check out this collaborative performance from a number of season three groups:
Be sure to check back here at The A Cappella Blog Monday night for our full review of The Sing-Off, season three, episode one! Like us on Facebook and follow us on Twitter for live micro-blogging as well!