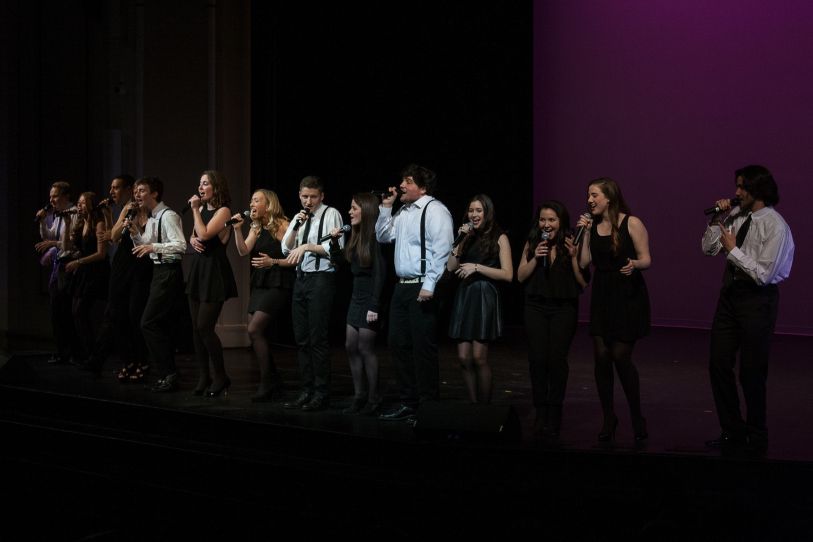 In honor of the 2017 ICCA tournament, The A Cappella Blog pursued short interviews with competing groups to develop insights into why and how groups approach competition, and to get appropriately excited for the tremendous shows ahead of us.
What's your group name and on what date is your group's quarterfinal?
We are Halftime A Cappella from the University of Notre Dame. Our quarterfinal date is February 11 at Ball State University.
How long has your group been around? Have you competed before?

Halftime was founded in 2004 as Notre Dame's first co-ed a cappella group. Halftime has been working hard to improve and grow as a group over the last few years, competing on campus and in smaller competitions. We competed in the ICCA for the first time last year at the Indiana University Midwest Quarterfinal and cannot wait to come back for our second year!
Why are you competing this year? What does your group hope to accomplish or get out of the experience?
Halftime is still relatively new to the competitive a cappella scene, so our goal in competing this year is to establish a stronger presence for our group. We want to start creating a legacy for Halftime and grow as performers and musicians. We had a great experience last year, but now that we have been through it before, we are trying to improve on last year's performance and hopefully place while we're at it!

How is your group preparing for competition?
Our music director is currently arranging a cohesive set specifically for the competition! As a group, we have been working all semester on developing our musicality and presence on stage. We recorded an EP in December, which has helped all of our members gain confidence and really connect with the music we're singing, and we think that will help our ICCA performance immensely! Additionally, we have been looking to peer groups at Notre Dame, in the Midwest, and other notable collegiate a cappella groups in order to learn what different styles and approaches many groups take to the ICCA.

If you were to describe your group, or the set your group is planning for competition with just three words, what would they be?
Energetic, passionate, edgy.
You can follow Halftime online using the information below:
Facebook: @Halftime
Twitter: @HalftimeND
Instagram: @NDHalftime!
Website: www.halftimend.com