When I was coming of age as an a cappella fan, The University of Rochester Midnight Ramblers were one of my favorite groups. I first heard them at what was just my second ICCA show—a semifinal that they won en route to a third place finish at International Finals. It may come as little surprise that their CDs were among the first I added to my fledgling a cappella recording collection--The Blue Album andTransister Radio; not long after them, Manifesto!
Over a decade has passed, and along with it several more Ramblers albums (from 1999 to 2011 the guys maintained a pretty ridiculous schedule of one album per year). Today, we arrive at Deja Blue.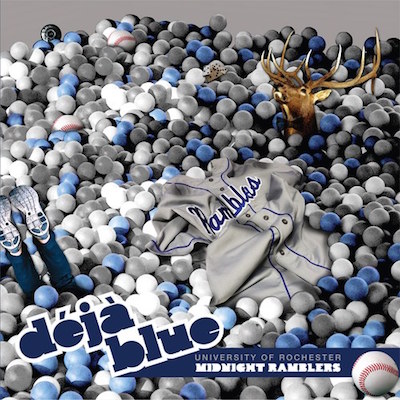 As the album title suggests, the album offers up a healthy dose of nostalgia, featuring Queen classic "Somebody To Love," a cross-generational mashup called "Stayin' Hot," plus a trip back to the earlier days of the Foo Fighters catalog with "Learn to Fly," and Alicia Keys's 2003 hit, "If I Ain't Got You." Most of the album skews more contemporary, though, with tracks from the likes of Bruno Mars, Jessie J, and Ed Sheeran.
While the membership of college a cappella groups changes from year to year, The Ramblers stand out as a group that has maintained largely the same aesthetic and strengths from year to year—a big, full, all-male sound that yields boisterous good fun, but that also proves itself capable of tapping into a much softer, more sensitive side for some truly affecting music.
In this album, I felt The Ramblers are at their best when combining smooth vocals and energy with inventive decisions, be it from a song selection, arrangement, or production perspective. The opening track, Passion Pit's "Little Secrets" is a sterling example of just that dynamic—a raucous, infectious opener made all the sweeter for a raw echo of "higher and higher and higher" layered over the backing vocals.
Deja Blue does have its more forgettable spots. Covers of "Locked Out Of Heaven," "Domino," and "If I Ain't Got You," while perfectly reasonable, don't offer up much new to say about these heavily covered songs, and I would have loved to have heard the guys take on material that has been less exposed in a cappella, or to have done something more inventive with these songs.
"Stayin' Hot" is a prime example of the guys taking a pair of middling song choices and achieving something truly fresh and worthwhile. Both "Stayin' Alive" and "Hot in Herre" have had some a cappella treatments, but seemed to have crossed out of the popular a cappella canon at this point. Better yet, synching up the beats and letting two party anthems from such disparate and distinct musical eras bleed into each other creates something pretty magical.
For me, though, the high point of the album comes in the middle. The Ramblers' take on "Learn To Fly" as a slowed down, reflective ballad is a simply brilliant treatment for a song that I imagine might have touched a number of the current Ramblers in their childhoods, perhaps in those very first formative years as music fans. This is a sterling arrangement, executed to perfection by a group with beautiful blend, mixed by the audio wizards at Liquid 5th to exceptional results.
Better yet, The Ramblers follow up "Learn To Fly" with a much more contemporary choice, One Direction's "Kiss You." This is the sort of song that many collegiate a cappella groups would feel too cool to take on, and the type of song The Ramblers nail because they take it seriously as an up-tempo barnstormer of song. Better yet, they weave in tongue-in-cheek asides on the bridge, like "Oh my God, it's One Direction!" and "Now we're singing a cappella!" Complete with clap percussion and brilliant tempo variation, this song is just such a joy to listen to. On top of all of that, as long-time Ramblers fans may recognize, this song feels like an awfully nice complement to their signature finale for live shows, "Na Na Hey Hey (Kiss Him Goodbye)."
The guys' cover of "Latch" features much of the same slowed down, reinvented aesthetic of "Learn To Fly" and I liked the track a great deal, though I also feel it's an example of how less than stellar album ordering can compromise the listening experience. The group develops so much momentum on "Kiss You," and it all feels squandered on this transition, not to mention that the similarities between how the group treated this song and "Learn To Fly," just two tracks earlier really undercut its ingenuity and emotional impact.
Deja Blue closes with "Somebody To Love." While The Ramblers' take on the song is largely by the book, I did appreciate a handful of non-traditional choices on tempo, such as slowing down, instead of speeding up on the "got no rhythm" lyric. Moreover, this is a very cleanly executed version of a popular song to finish off the album on a thoroughly entertaining and accessible note.
All in all, Deja Blue continues a legacy of excellence in recording for The Midnight Ramblers. "Stayin' Hot," "Learn To Fly," and "Kiss You" anchor an album that's more than worth a listen.