In addition to full reviews of each episode of The Sing-Off, this season we will offer extended coverage most weeks via the 3 Gs format.
Great: Represents my thoughts on the best performance(s) of the night—these are the star-makers, the tearjerkers, the ones we're all going to remember.
Gone: Represents my thoughts on the final showings from the group(s) we're seeing for the last time in a given week.
Give it a second look: Represents the act(s) you might not remember, or that we might not have expected much from, but which delivered just the same, and deserve another listen.
Here are my thoughts from this week's episode:
Great
Hey there, Delilah. The season premiere of The Sing-Off was, first and foremost, a coming out party for Delilah. They're a newly formed group and, to be frank, most of America just hasn't ever heard really, really good all-female a cappella. In their cover of "Grenade," Delilah demonstrated a level of dynamic range and emotion that no other act could touch on this episode.
Let's get to the (Vocal) Point. Like what happened in Season Two, The Sing-Off held back its surest fire hit for the final performance slot of the season premiere. Where Committed emerged as an unknown quantity and lit up the stage with "This Love" last year, BYU Vocal Point came in with a more robust reputation, but lived up to every word of the hype in 2011, electrifying the audience with "Jump, Jive an' Wail."
Gone
Farewell to the Fannins. Oh Fannin Family, we had such high hopes for ye. The writing was on the wall when this brother-sister crew got all of two seconds of the spotlight during the group opening number. The Fannins were fun, clearly talented, and quite endearing with their debut performance of "Who Says," and yet, by the time they had sung their final notes, it was pretty clear they didn't quite fit with the Sing-Off cast.
The Cat's Pajamas get sent to bed early. I have mixed feelings on the early elimination of The Cat's Pajamas. On one hand, their performance lacked innovation or ambition—they offered up a straight forward presentation of a classic song, and did little to make it their own or modernize it. On the other hand, if you're going to base eliminations purely based upon what we heard and saw on stage, these guys did come across more professional and cleaner sounding than many of the other groups on episode one—particularly Kinfolk 9. Perhaps the judges and production staff recognized more upside from Kinfolk 9, even if they hadn't realized their potential yet. Perhaps they figured America would grow wary of seeing the same schtick from The Pajamas two weeks later. Regardless of the reasoning, this was a disappointingly early exit for the guys.
Give It A Second Look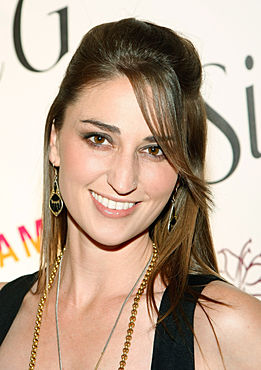 Sara Bareilles is just so darn likable. It was an uneven first outing for The Sing-Off's newest judge. Sara didn't have much to say about the first couple acts, seemed afraid to be the first to criticize Kinfolk 9, and stumbled over her words a bit. And yet, for all the evidence of first-time jitters, I couldn't help smiling almost every time she got on the mic. Sara isn't unlike that friend from college who constantly puts her foot in her mouth, and isn't so sure of herself, but who has so much humility and warmth around her that you can't help rooting for her just the same. Sara's presence has already marked a major improvement from Nicole Scherzinger's contributions on the judging panel, and once she shores up her footing, she should offer up something genuinely special.