SoJam, the largest annual contemporary a cappella festival in the US, has come and gone for 2012.
SoJam is educational. All day Saturday and part of the day Sunday are dedicated to workshops, lectures, tutorials, and master classes.
SoJam is fun. Friday and Saturday night each end with after parties, which may seem like an oddity when so much of the rest of the weekend feels like a party in its own right: a hybrid karaoke night/family reunion/celebration-of-what-the-attendees-love.
SoJam is entertaining. Be it watching six of the best collegiate a cappella groups in the country compete Friday night; or Pentatonix, Fork, and The Edge Effect electrify the audience on Saturday night; this year's evening competition and showcase carried on a ten-year tradition of wowing a largely expert audience.
And, at times, SoJam is transcendent.
There were a handful of moments at this year's SoJam when I stopped taking notes, set aside my camera, and even got a little choked up. These are the moments that I can't hope to truly capture for anyone who wasn't there in person, but that need to be remembered, and deserve to have at least some modicum of their power distilled for mass consumption (if only to urge those who chose not to attend to make sure they're a part of SoJam 2013).
Note: This list is not exhaustive and not meant to discredit the many more impactful moments I'm quite certain transpired at SoJam 2012. This post is purely intended to recount three particularly impactful experiences from my own trip to SoJam. Please feel welcome to share your own in the comments.
Styles Clash/Complement
Friday night's SoJam show represented not only one of the best college competitions of 2012, but one of the most diverse and original ones to boot. In a nutshell, the competition spotlighteded the ability of Acappology to seamlessly bind their visual and audio performance; The Melodores' killer solos and visual assaults on the stage; The Cocktails' ever-evolving sense of sass and power; Nothin' But Treble's smart, inventive approach to arrangement and song selection; Mix's decision to sing its heart out in surprising and unconventional ways; and The Nor'easters unparalleled blend of emotion, power, and theatricality. It was that special type of show in which not one group delivered a forgettable performance, and in which the unique elimination structure allowed two of the ensembles to truly show how deep their repertoires, group identities, and souls could go. (We'll have a full review of the show on The A Cappella Blog later this week. Photos from the show are available on Facebook now.)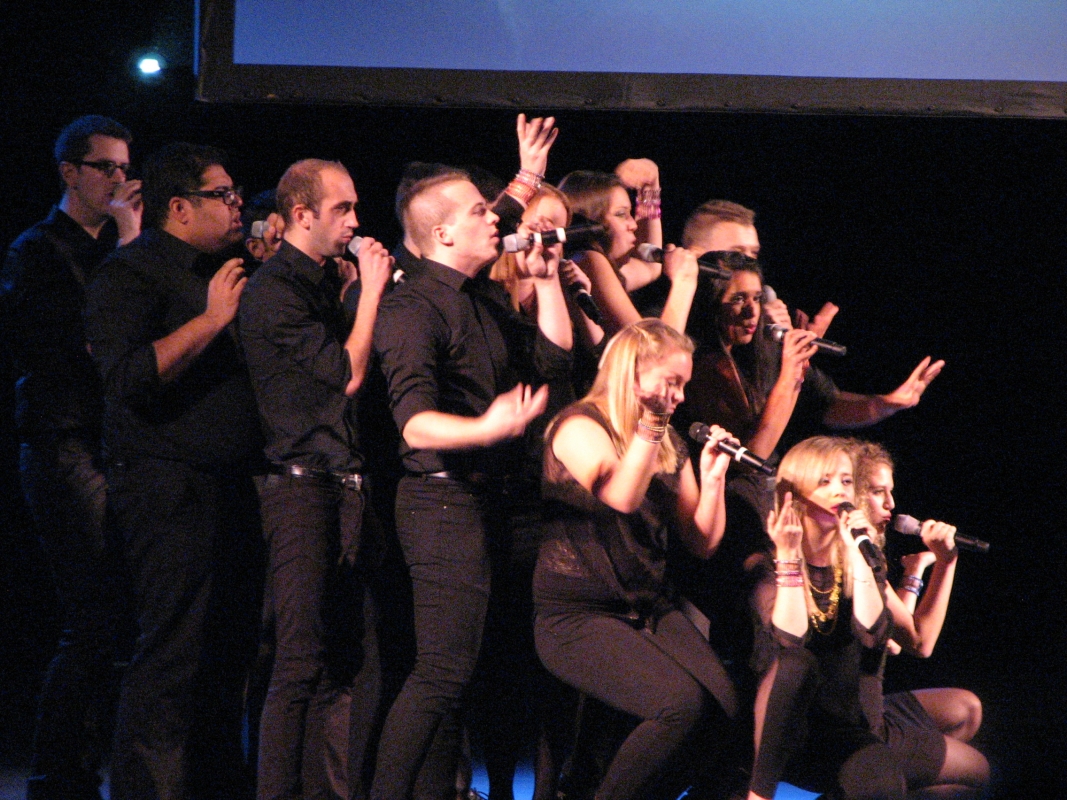 The Future Meets the Present Meets the Past
In a festival laced with sublime performances, Ben Stevens has made a habit of taking us all to school, delivering show-stopping lectures on the history and importance of music, under the banner of "Essential Listening." This was the second time I had the opportunity to hear Stevens testify; little did I know that it was only after he had guided a lecture hall full of eager ears through a musical journey that the real show would begin. This particular session ended not with a recording, or extended wisdom from the professor himself, but rather a pair of truly unique, live musical performances.
First, a cappella wunderkind Forte, from Centreville High School, performed "My Hat Is Awesome," one of ten original compositions from the group's new CD, Life's So Lyrical. Don't let the cheeky song title fool you; this is an emotionally rich, complex, thoughtful song. As great as it sounds on the CD, I'm not sure any recording could rival the impact of hearing it live, and particularly in the wake of Stevens's brilliant words.
After we heard this youthful new generation of voices, those in attendance were in for another surprise. Stevens gathered a small collection of people important to SoJam over the course of the last decade for a one-time performance. The cast included SoJam founder Dave Sperandio, current SoJam Executive Producer Mark Hines, Christopher Diaz, Alli Brooks, Nick Lyons, and Dave Baumgartner, who delivered a hauntingly beautiful performance that I can only assume would have gone viral within the a cappella world by now, had Stevens not explicitly asked that no one record it.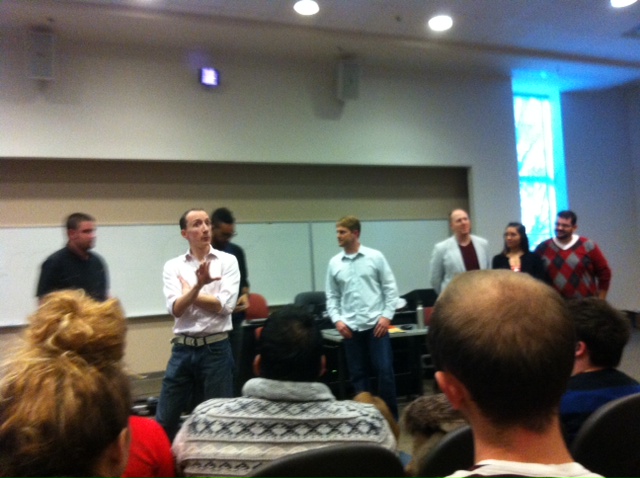 Electricity
Saturday night's professional showcase featured Pentatonix. As the US's hottest a cappella group and the winners of the last season of The Sing-Off, everyone knows Pentatonix; it might just be that sense of familiarity that made their performance so special, as the group's faithful following had the opportunity to enjoy so many of the songs that vaulted the group to popularity on national TV ("Video Killed The Radio Star"), but also originals from their EP ("The Baddest Girl"), and some of the group's signature YouTube releases that have helped keep them in the spotlight ("We Are Young," "Gangnam Style"). The group's bass-driven, electric take on a cappella captivated the audience and took us on a journey through one year in the group's history; simultaneously adding a sense of narrative thread and coherence to the group's ever-expanding repertoire, and making us marvel at the fact that we've only had this group in our lives (and earbuds) for one year.
During intermission, a fellow Fork-novice and I questioned the decision to have any a cappella group follow Pentatonix. We should have known better than to question the SoJam production team. Straight out of Finland, Fork exposed SoJam to a rock 'n roll sensibility rare unlike the sound anyone else brings to a cappella. Four voices. Four larger than life presences on stage. One heck of a sound guy. One heck of a lighting technician. While some purists might balk at Fork's wholly nontraditional approach to vocal music, those who sat back and experienced the full effect of their show had little choice but to watch and listen in awe.